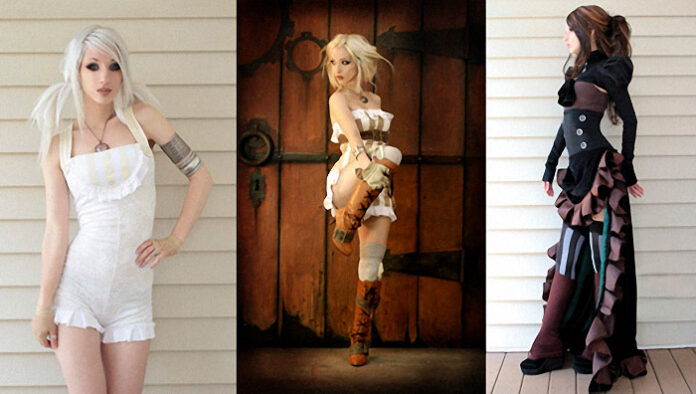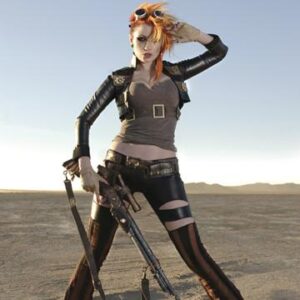 The Steampunk subculture has seen a huge growth in popularity and mainstream appeal. However, it would be an injustice to write off Kato's Steampunk Couture as a brand created by a designer jumping on a current trend. While the phrase, "eats, sleeps, and breathes" has become something of a cringe worthy cliché, I can think of no better and more appropriate way to describe designer Kato's affinity and connection to the Steampunk style and culture.
Few people can boast of a home like Kato's—with a vintage train carriage serving as her dining room, a bedroom that looks like Captain Hook's cabin, and just beside it lies a "Steampunk Laboratory." Kato's unique home does triple duty, serving as not just a living space, but a studio and live-in set as well.
"The first floor is an open-plan living and dining room with a tea nook," Kato explains. "The dining room is a vintage train carriage complete with luggage cases and car number, and the tea nook is just a little, no-fuss Gibson-girl decorated area for the ladies to enjoy their afternoon tea." Kato went on to explain her bedroom, workspace, and the quite intriguing laboratory, which is "dark and delicious and packed floor to ceiling with shelves of curiosities. It's become everyone's favorite room in the house."
With such attention to detail and commitment to the Steampunk aesthetic, it's no wonder the brand has steadily grown since its inception in 2005. Although, with all of that said, it may be hard to believe that Kato didn't actually know what Steampunk was when she began designing her creations, and she actually had to have a friend inform her that her tastes had a specific term and subculture attached to them.
"I grew up in a Victorian rectory behind a 13th century cemetery. My parents appreciated and embraced the Victorian style and so I was surrounded by this from day one. I recall being probably the only 7-year-old punk/goth in mid Wales, but it was after watching the first Mad Max movie, when I was about eleven years old, that my love for combining a rugged, apocalyptic biker style with Victorian aesthetics took shape and pigeonholed my early fashion design. It was tiresome explaining the style to people when I didn't have any visual reference on me, so it was quite the relief when I was literally told what category my work fit into. My style finally had a name."
Besides her upbringing and childhood movie viewing, Kato also cites Magdalen Veen, aka Eliza Guager of the band Abney Park, as one of her major influences. Kato considers Magdalen to be the "original Steampunk girl."
For those familiar with Steampunk, but not yet familiar with Steampunk Couture, it's a brand that has seen a good deal of evolution through the years. "It started off covered in buckles and straps and was very dark—heavily influenced by my love of Gothic fashion—and over the years has been leaning more toward traditional Victorian designs and basics for people to add their own flair to. I've always felt that the Do-It-Yourself creative energy was at the heart of the Steampunk culture, so I want to encourage people to customize their outfits to suit their own identity and for them to aim to be as original as possible as the Steampunk populous grows."
And as the Steampunk populous grows, so does the Steampunk Couture brand and its team. Three years ago, Kato began hiring interns, and last year she hired her first full-time assistant. As of this year, Kato also works alongside a second assistant, a head seamstress, and a part-time seamstress.
With all of the hard work from the Steampunk team, Kato released an extensive new line, which coincided with both a new website and a new product division for the brand, Kato's Closet. In Kato's Closet you'll find, not only clothing and accessories, but also an array of vintage treasures such as pipes, jailer's keys, and teapots.
"Oregon boasts an enormous collection of antique stores, so when I'm not creating clothing here at home, you'll likely find me rummaging, elbow-deep through bins of vintage lace and trinkets." However, as Kato explains, she's not one to just pick up an item and pass it on to the next buyer. "I don't do many re-sells, as I prefer to customize an item with my own personal style before putting it up for sale. It means the customer is buying a more special and unique item." And as for the clothes you'll find in Kato's Closet, they head in a new direction for the brand as well. As opposed to the main Steampunk line, Kato's Closet includes primarily lighter, shabby-chic style clothing. Kato explains it as "really pretty things that appeal to a wider audience than just my fellow Steampunks."
Kato's willingness to work directly with her customers, taking into account their interests, is definitely one of the big factors that helped Steampunk Couture grow since its inception. While custom orders are currently accepted on a very limited basis, at the start of the company, Kato was willing to take on most any commission that came her way in order to build up her name.
"Early on I took pretty much any commission that came my way, and once or twice these included something really weird like a spaceman suit, a themed wedding dress, a Steampunk drag queen ensemble, or a hiphop hedgehog outfit!" Kato explains. But as Steampunk culture began to gain popularity, business quickly expanded for the brand who, at the time, was one of the only companies providing Steampunk clothing.
With the brand now firmly established, Kato has plenty of room to experiment. She says that she would like to sell jewelry and more offer more leather work creations. Some Victorian-inspired underwear and Steampunk art dolls are another possible future endeavor, along with what Kato describes as a "giant, earth-moving top-secret side project that is going to either make or break" her. One can only guess what intricate new creations Kato could be cooking up in that Steampunk Laboratory of hers…