In the run up to the 20th anniversary of the creation of Cyber Gothic Factory, Gothic Beauty thought it was about time to speak to Jean, founder and creative mind behind the Canadian brand, famous for personalised bullet belts, outrageous cyber goggles and neon gas masks. Recently CGF has expanded their range into laser cut leather jewelry – ideal for goths and steampunk fans worldwide. If you love the style of Mad Max, yearn to go to the Burning Man festival or see the future as one big Tron-inspired rave, the Cyber Gothic Factory have got your outfit covered. Their range of quality, hand-finished accessories can turn even the most ordinary outfit into something amazing and unique.
Founded in 1998, Cyber Gothic Factory was brought into being by Jean's passion for creating fashion, realising it could no longer be just a hobby. "It was driven by the need to make a living doing what I had always loved to do – create and design fashion trend jewelry and accessories". Luckily for us Jean followed an alternative slant and CGF was born. "When I started in Montreal, we had a very strong trend focussed around ethnic inspired fashion. I designed the best elastic cord necklaces with beautiful wooden beads for hippies at the time, as well as other jewelry made of natural materials, like bone, shells and coconut shell beads." After riding the crest of the ethnic grunge surfer style trend, Cyber Gothic Factory exhibited at wholesale trade shows in Montreal and things began to take off. After that CGF spotted another trend and followed the popular leader of it, coincidentally a fellow Canadian. "Avril Lavigne became popular, and so did her somewhat gothic appearance. Suddenly spikes and leather jewelry spread through fashion like wildfire all over Canada and into the US and Europe. I started creating studded leather jewelry and accessories and the result was orders from all over the world! Gothic and Punk fashion became very popular and it was around this time, around 2004, that I started making heavy duty bullet belts. Now I am one of the main suppliers of this item and similar bullet-themed accessories." Cyber Gothic Factory even offer a personalising service, so you can literally have a bullet with your name on it. Or that of your enemy.
Keeping a close eye on trends and the direction of the alternative fashion world, Jean took another new direction a few years later. "In 2010 I started the cyber gothic trend. Cyber Gothic Factory made incredible masks, goggles and respirators which sold worldwide, as far as South Africa, New Zealand and Australia." The current gas mask range from CGF varies from smaller respirators worn over the mouth and nose, to larger full-face masks that fasten behind the head. There are some with huge spiked studs down the centre of the face, or with colour changing lights (complete with remote control!). The 'EL Wire gas masks' start life as a standard issue Israeli mask, but after a few hours in the hands of the Cyber Gothic Factory they become light-up cyber accessories, the 'eyes' and 'mouth' glowing in neon colours like a Praying Mantis sent from the future! The latest edition to the CGF family is laser cut leather jewelry and etched acrylic cyber accessories, featuring cog designs or circuit board patterns – precision items at affordable prices for goths, cyber fans or steampunk devotees alike. Jean's 'sister' business specialises in laser cutting for any kind of business who might make use of a precision pattern and CGF also sell wholesale for any stores that want to expand their range!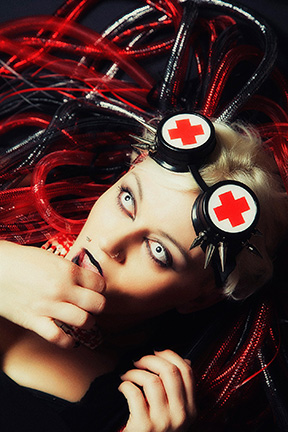 When asked what sets Cyber Gothic Factory apart from other alternative stores, Jean's focus is on quality and authenticity of design. "I create and design everything on the website and that makes us very unique. We also make everything in our factory in Montreal and that enables us to control and ensure quality. It can take a few hours or a few days to make a new item, depending on the availability of parts. The process includes breakfast because I dream of new designs at night while sleeping! I have too many styles I want to make and sometimes it's very hard to find the parts I need, or it takes a long time to receive them which can delay a new style."
"I've been creating fashion accessories for 25 years, so it just comes to my soul and mind. I really enjoy creating and making something available for people in a certain fashion trend like goths, punks, ravers and steampunk style followers." Speaking of fashion scenes, what is the scene like in Canada at the moment? "I am based in Montreal, Canada, and the cyber/goth/rave and also Punk scene is very strong here, but it is stronger in Europe, the UK and Germany especially, and also in the USA." Jean's answer to our last question is sure to make the readers of Gothic Beauty very happy indeed! Is there someone famous you would like to design an item for? "Nobody in my mind, but I love gothic women. I think they are the sexiest women alive." We couldn't agree more!