With a flash of pink hair framing her face, and bejeweled cat-eye glasses perched on her nose, our leading lady secrets herself away in her studio. The ends of her creative fingers are finished with magic, glittery nails adorned with tiny pink bats and Hobo Murder House, her faithful Shih Tzu, is at her side. She spends her days designing and creating spooky-cute gothic attire and her nights giving ghost tours to spirit-loving tourists. Her spare time is spent hanging out with circus performers, or travelling in her gypsy caravan, showing curious folks her 'Mini Museum of the Bizarre'. On quiet days she can be found just relaxing with her albino hedgehog (ironically named Midnight). No, this is not the introduction to a gothic children's book, this is the real life of Bisbee resident Renee (also known as Queen Nay Nay), the living embodiment of a Tim Burton character and owner of independent gothic shop Sweet Midnight. Welcome to her little world where fashion is both dark and cute and every day is Halloween.
"I started Sweet Midnight in 2011, because at the time I noticed that there was something missing from the 'goth' market. It was one extreme or the other. Nothing was cute and dark. I wanted to marry the cute factor of Kawaii and Lolita styles with goth. Hence our name, Sweet Midnight and our tag line 'the dark side of cute'." It's clear from her clothing ranges that Queen Nay draws inspiration from old horror movies and Halloween (obviously), but her passion for carnivals and travelling shows plays a big part too. "I believe in a past life I was a circus performer or perhaps a bearded lady! Who knows? I am drawn to the circus and sideshows. I love and collect anything and everything from vintage circus and sideshows. I have friends who are sword swallowers, clowns, trapeze artists and even lion tamers. I believe the circus and these kinds of acts are a dying art form." Such is her passion for the travelling carnival that she is planning to play a part in its revival. "I designed and built an old fashion gypsy wagon! I hope to someday travel in it with my own personal dime museum, the Bisbee Mini Museum of the Bizarre."
When it comes to the sartorial side of Queen Nay, her dedication to design matches her passion for sweet, spooky style. Every fabric design, from 'Bat Filigree' and 'Monster Mask', to 'Trick or Treat Graveyard' and 'Webs We Weave', are all exclusively drawn by Queen Nay. "I have a BFA in Toy Design from OTIS College of Art and Design. I was a professional graphic and packaging designer before taking the plunge and going out on my own. All the images on our skirts and shoes and bags were designed by myself." Her designs include simple but striking silhouettes, of gravestones or pumpkins for example, against purple or green fabric, or black fabric with pops of bright roses among cobwebs. The script of E. A. Poe covers one skirt while a fortune teller features on another.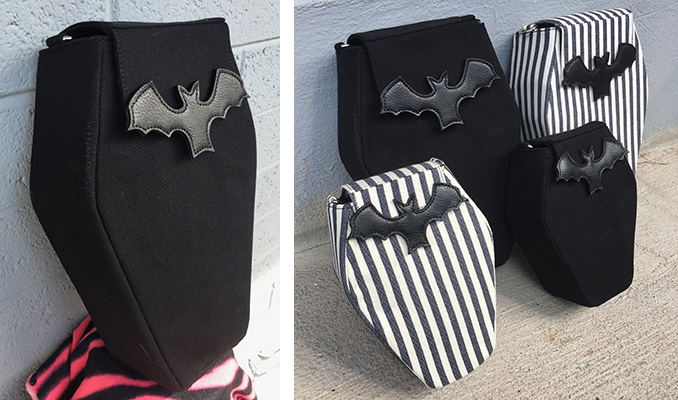 Another simple but striking design from Sweet Midnight are their gorgeous coffin bags. You might think once you've seen one coffin bag, you've seen them all, but these purses have something special in their design making them coordinate with any outfit, as well as a considered construction that's built to last. "The Sweet Midnight coffin bags are designed to be functional and used everyday. A lot of the bags on the market are made of vinyl which will fall apart quickly whereas all of our Coffin Bags are made with high quality canvas that holds up to everyday wear and tear. They each have two removable straps so the wearer can wear them as a backpack or a shoulder bag, simply by removing a strap. Our new Mini Coffin Bag also has belt loops on the back so you can wear them on your belt too." How does the bag match every outfit though? "The new version of our Original Coffin Bag now has interchangeable bat colors. So if one day you are wearing red, you can snap on your red bat. If you are wearing green the next day, snap off the red bat and put the green one on! Our Coffin Bag with Removable Bat Wings is a feature no other bag has too. It has wings that you can snap on and off. If you choose not to wear your bat wings they fit right in the bag so you don't lose them." Not that anyone would ever not want to wear their bat wings!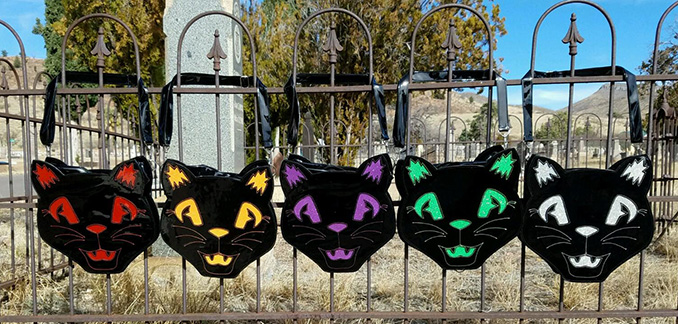 Sweet Midnight have also worked their magic on another popular Halloween image – the black cat. "After vending at a lot of Halloween themed conventions, I kept getting asked about black cat products, so I first drew inspiration from vintage Halloween decorations to design our Black Cat Skirt. Then I sculpted our Black Cat and turned it into bracelets, necklaces and brooches, but my customers wanted more! When my customers speak I try to listen!! They said there were not any black cat bags out there, so I designed one using our Black Cat." Again, thinking about those who wear more than just black, Queen Nay added variations to the range. "I decided that if it came in different colors it would appeal to more people, so we offer them with Silver, Red, Orange, Green and Purple details. They also have a pocket on the inside and two removable straps so you can wear it as a backpack or shoulder bag." The result was a versatile bag with the most adorable face too.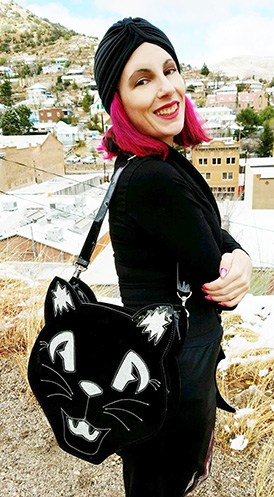 Speaking of Halloween, our Queen Nay must have some big plans for this coming October? "First off, Halloween is a lifestyle, not just a holiday! In my little world we celebrate it everyday! I own the Old Bisbee Ghost Tour in Bisbee, Arizona, and Halloween is the busiest time of the year for us, so I will be celebrating by giving tourists a spooktacular tour of our haunted city." Sounds perfect!
While we're on the subject of pasty apparitions, Queen Nay has an unusual pale pet who is the stores mascot. "Midnight was a rescue hedgehog. I named her Midnight because it was ironic since she is albino. Then I started calling her my Sweet Midnight! I also have a rescue Shih Tzu named HoBo Murder House (no lie, remind me never to let my husband name my pets) and when I had a physical store in Bisbee, he would come with me to work everyday, sit out on the porch and welcome customers. Since closing my physical store, he now helps me behind the scenes by keeping my stress level down." Who could want more than an albino hedgehog and a pup named after infamous serial killings? "Well, my dream would be a Sweet Midnight Ark – two of every animal!! I especially want a rescue sloth and to open my own bat rescue." Just when it couldn't get any spookier!
As Sweet Midnight's star attraction Queen Nay says "sweet and spooky speaks to all genres" and with her clear passion for all things eerie (as well as a talent for tailoring) Halloween can be a lifestyle for everyone, not just those of us lucky enough to own a gypsy caravan and a ghostly hedgehog.
Sweet Midnight / The Dark Side of Cute
sweetmidnight.com