Karen Kay's amazing journey has taken her from being a punk post-card girl of the 1980s London goth scene to being a real life faery godmother. A former member of punk girl-band the Gymslips, she has swapped her spikes for sprites as organiser of Faery events and editor of the fairy-themed Fae Magazine. Karen shares her memories of weekends spent drinking at the Kit Kat Club and Camden Market in London, the signature style she forged during her musical career, her lifelong passion for magic and the fairyland nightclub experiences she now curates. Karen Kay's truly inspirational career carries us through the goth and the gossamer.  
Karen brims with exciting memories of her youth in 1980s London, at the very inception of the goth and punk scenes. "Looking back, I feel so blessed to have been around to experience the punk and goth scene in London first-hand. It really was THE place to be." The fledgling scene provided a unique space as a counter-cultural youth movement, forming a special part of London's modern social history. "The Kit Kat was my main hang-out on the weekends, everyone was there. There were so many famous faces including Sigue Sigue Sputnik, Wayne Hussey of The Mission, Dr and the Medics and many more. They were fun and wild times! After the club we would usually stay up all night, if not all weekend, and head down to Kensington Market or Camden."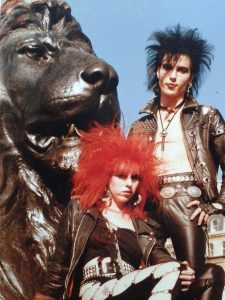 These markets provided inspirational stalls where Karen bought clothes to modify. She recalls the total freedom of expression felt creating her beautifully distinctive look and enjoying all the attention it gained her. "I would literally spend all day getting ready to go out. Carefully bleaching and dying my hair a different colour every week! Then vigorously backcombing it and shaping it into spikes, then spraying tons of hairspray all over it, and finally crimping it to seal the deal! Tribal stripes smeared across my face, bright pink eyeshadow from one side of my head to the other and dark burgundy or blood red lips, and sometimes I would add a star shaped beauty spot." While most people wore black Karen loved to stand out wearing red or white and creating an attention-grabbing look. "I liked to customise all of my clothes and would spend hours poking studs through my jacket. I always had long extensions in my hair and braids and beads and basically anything I could get my hands on. Yes, it all ended up in my hair!"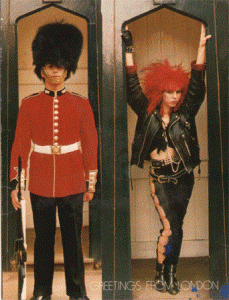 On one occasion David Burder from the Royal Photographic Society asked Karen and her friend Danny Fury, originally from the gothic rock group Lords of the New Church, to pose for a series of punk postcards. "I distinctly recall hordes of tourists following us around as we posed on the giant lions at Trafalgar Square and other touristy locations. We also posed next to the Queen's guards." The images beautifully juxtapose the freedom of their aesthetic against the highly familiar scenes of tourist London.  When hanging out at the Kit Kat Club Karen was also scouted as an extra for a number of films including Hazel O'Connor's Breaking Glass, charting the rise and fall of a London punk-rocker, and Sid and Nancy: Love Kills, portraying the relationship between The Sex Pistol's bassist Sid Vicious and his girlfriend Nancy Spungen. "I played an American punk in Love Kills and a Mod in Breaking Glass. I remember literally being chased by all the punks during lunch break. Luckily I was a fast runner back then!"
When the manager of the Gymslips head-hunted Karen, she found herself recording for the famous DJ and producer John Peel at the BBC. Karen became the band's lead singer and bass player. "Our music was upbeat, fun and often described as three-chord pop with a punky vibe. We did not really label ourselves; we just played the music that we enjoyed. We used to gig at places like the Marquee Club in Wardour Street, Leicester Square, and various pubs and clubs." The first video they made was for their single 'Evil Eye', which was filmed against the industrial backdrop of London's docklands. Karen wrote the song about hostile aliens invading earth.  "I vividly remember wearing an all-in-one red PVC cat-suit that I wore with a giant buckled corset style belt tightly around my waist. I think I cut the sleeves off the cat-suit, and wore it with a black leather jacket." The vocals have an archetypal 80s vibe, whilst the performance light heartedly pays homage to the defiant power that sits at the heart of punk rebellion.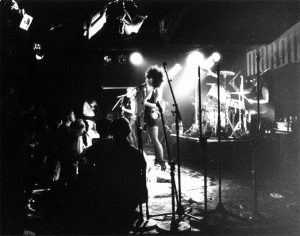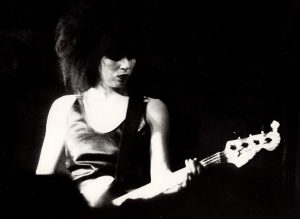 As the scene matured Karen moved from punk to pixie. "When I was the punk post-card girl I was heavily into the occult, candle magic and such, and was drawn to the darker side of faeries. As I grew up, especially after becoming pregnant at the age of 25, I softened and went more towards a holistic lifestyle, caring more about the food that I ate and softening in my spiritual beliefs. Now it's all about angels, faeries, and love and light – the complete opposite from my younger years." Yet Karen had always felt drawn to faeries. She would collect rose petals for them as a child playing in her grandmother's garden and has even been blessed with occasional fairy sightings. Even her first        tattoo at the age of 15 depicted Tinker Bell from Peter Pan. "For me, the world of faery has always been fascinating. I feel very lucky to have kept that enchantment and magic with me throughout my entire life."
Ever involved in a fascinating mix of projects Karen is currently writing a book about her journey, creating a faery oracle deck and has just released a double album CD of mystical Celtic music called 'Through the Faerie Portal'. "Faery represents the magic and mystery of life, and my own connection to nature. I feel that every plant, flower and tree has a faery guardian, protecting it and encouraging it to grow, a bit like a life force. Without it, nature could not exist." It seems to be this sense of wonder and curiosity which continues to inspire Karen.
Mixing her experiences in the London music scene with her fairy fascination Karen currently organises Faery Balls and other events in the UK. "I had always imagined what a nightclub would be like in fairyland, and that is what I wanted to create in reality. It had not been done before (to my knowledge) in the UK, and that's how the seed of the idea started." The first Faery Ball was held in Truro in Cornwall in 2006, with famous faery artists Brian and Wendy Froud in attendance. Karen also runs the 3 Wishes Faery Festival at Mount Edgcumbe in Cornwall. It is a three day music festival, incorporating all things enchanting. The 2018 festival in June includes a world record attempt for the largest gathering of unicorns and headlines the UK premiere of medieval folk act Prima Nocta.
"But once a goth always a goth and it is a part of me that will always remain, even if my clothing is not the same. You are more likely to find me wearing wings and a sparkly dress, and my hair is long and wavy instead of short and spikey, but it's still me, just a different expression. I love the faery godmother role, it's fun and I would not have it any other way. I'm known now as The Fairy Lady." From goth to glitter, Karen has charted her own fascinating path, ever inspired by that sense of mystery and metamorphosis which lies at the heart of all alternative scenes.
 www.facebook.com/karenkayfairylady/
https://www.facebook.com/FaeryEvents