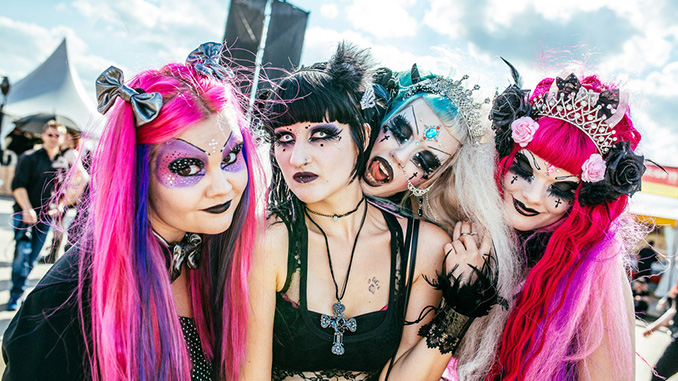 Summer is on the way and so is festival season- mark your calendars. Here is a roundup of the biggest and best European goth festivals that you can look forward to on the other side of the pond (that's the UK and Europe to the rest of us!). By Jen Hoffert and Lenore.
April 21st – 23rd Whitby Goth Weekend in Whitby, UK
Possibly the longest running gothic music event in the UK! This independently run event is always fraught with gossip and rumor, with factions breaking off and making their own entertainment. As such there's always lots to do! The main 'official' Whitby Goth Weekend line-up this year includes Toya Wilcox and Aurelio Voltaire headlining, as well as steampunk from Seattle in the form of Abney Park as well as homegrown steampunkers The Men That Will Not Be Blamed For Nothing. There are also fringe events, some official some not. The Sophie Foundation fundraiser night held on the Thursday (for those who just can't wait for the official festival to start) features live bands (Zeitgeist Zero this year) and DJs and all the proceeds go to charity. One of the popular Friday nights is Bunker 13, with guest DJs playing a mix of EBM, aggrotech and industrial into the wee hours, or if something more trad is your bag, there's the brand new Marquis Masquerade Ball (with The Danse Society topping the bill). Traditionally the festival ends with everyone getting very drunk for Sexy Sunday (now called Immortal, and back by popular demand), but after everyone has queued for fish and chips, broken their heels climbing up to the Abbey (well worth it), gotten annoyed by the goth-bothering photographers and drunk their weight in cider, there's still events running until Monday! This feat of gothic-endurance is a tradition for some, a spectacle for others.
June 2nd – 5th Wave-Gotik-Treffen in Leipzig, Germany
Established in 1992, after the reunification of Germany in the city of Leipzig, the German word "Treffen" tells you exactly what it is: a meeting of dark souls from all over the world. Wave-Gotik-Treffen is a unique event in that it takes place at venues through the city, including the opera house, symphony hall, and the largest theatre in Leipzig. Over 200 acts perform over four days at some 50 venues and over 20,000 visitors in (mostly) black fill the city. Many people camp at WGT, but if you'd rather sleep indoors, book your hotel early, because most in the city are fully booked for Whitsun weekend by January. Because of the spread-out nature of WGT, ticket-holders may use public transportation for free during the festival. The main north/south tram line is so full of goths that Consumer Junk and DJ XLII wrote a tribute song about it: Gruftibahn 11.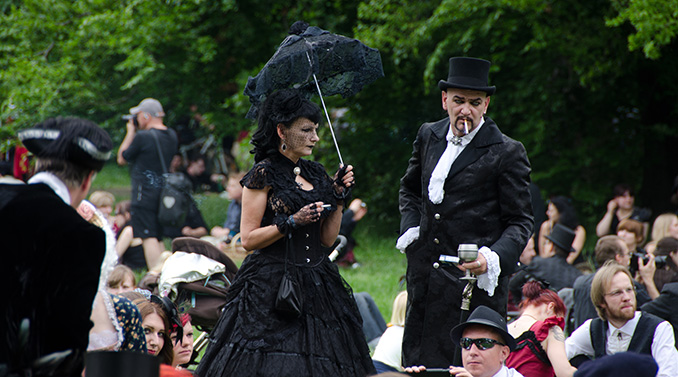 In addition to the music, WGT offers cultural activities throughout the city. Some are open to the public such as the Pagan Village in a wooded park or the Wonnemond Medieval Market on the roof of Moritzbastei – a student club built into ancient city fortifications. The traditional Friday afternoon Victorian picnic is held in a city park and attracts thousands of people, both participants and curious onlookers. There are also readings, films, theater, opera and ballet, as well as free admission to many Leipzig museums, with some organizing special exhibits with darker themes. In fact last year, to commemorate the 25th WGT, the city history museum hosted an exhibition for five months on goth subculture and the history of WGT. That exhibit proved to be popular not only with goths, but also with regular Leipzig citizens, attracting a record number of nearly 25,000 visitors. The WGT really is a part of the city and Leipzig is well known for its welcoming attitude toward WGT guests. Many shops in the city center create special window presentations in celebration of the event. Local restaurants create special menus including black ice-cream, pasta and ketchup! St. Peter's church even hosts a Gothic church service.
In addition to providing space for the campground and largest concert venue with capacity for up to 7,000 fans, the Agra fairgrounds are home to the "Black Market", an entire hall filled with vendors. Clothing, shoes, accessories, household décor, books, music – if it comes in black, you'll find it here. The main pedestrian road running through the fairgrounds is also known as the catwalk. It's the place to be seen and photographed, if that's your thing, but it's also an easy place to meet up with friends and people watch.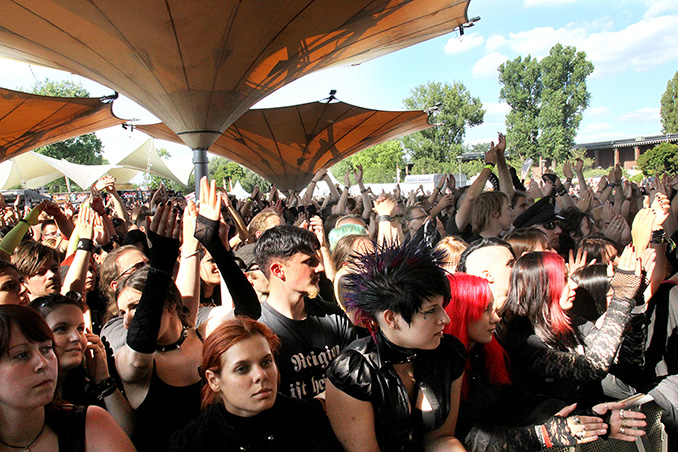 The German scene is musically a bit broader than the scenes in many other countries; basically all genres of black-clad fans join together: goth rock, EBM, industrial, synth-pop, aggrotech, doom metal, medieval rock, neofolk and more. Big name acts at WGT this year include Skinny Puppy, Lebanon Hannover, Rotersand, and Sex Gang Children. With so many stages available, WGT also features new bands and special projects such as a joint performance of Amanda Palmer (Dresden Dolls) & Edward Ka-Spel (Legendary Pink Dots). The venues each tend to host one sub-genre of music each day. So if your favorite band is playing at 10pm, it's worth showing up early to check out the opening bands, even if you're not yet familiar with them.
After the concerts wrap up around midnight, the parties begin. From EBM, to goth rock, to dark-romantic, clubs through-out the city host parties for WGT. In the finest German tradition, the music doesn't stop until the sun comes up on Tuesday. Number one insider tip? Pack a second pair of boots, because you will inevitably get the dreaded "Treffen Foot" from running about from noon until sunrise.
July 22nd – 23rd Amphi Festival in Cologne, Germany
Amphi Festival welcomes up to 16,000 guests each year at a cultural park in the middle of the city. The park includes an open air theater and a river-front beach. Yes really, there's a lounging area for goths to take in a little sun! "Call the Ships to Port" is the yearly Amphi river cruise on the Rhein held on the Friday evening before the festival starts. This year the bands Scheuber, Neuroticfish, and Front 242 will perform on board. The rest of the 42 band line-up ranges from electro and future pop to medieval rock and gothic rock and reads like a who's who of the weekly playlist at your favorite dance night. The headliners for 2017 include Combichrist, Diary of Dreams, and Fields of the Nephilim. The festival grounds are compact enough to switch back and forth between the two stages, so even if two of your favorite bands are playing at the same time, you can catch a bit of each show. In past years the Amphi Festival has sold out, so securing tickets early is key.
August 12th – 13th M'era Luna Festival in Hildesheim, Germany
Started in 2000, M'era Luna is a traditional European open air festival. The two day event attracts 25,000 visitors yearly and almost everyone camps because it's located in the countryside at a (former) airport. However, don't worry about cramming your camping gear into your luggage, M'era Luna offers different levels of equipment rental from basic tent rental to the "Gothic Garden", a special section of the camp ground with already set up tents, well lit paths, and its own reserved showers and flushable toilets. The luxurious Ganymead package offers accommodation for four in a high-tech tent with carpeting, beds with sheets, electricity and wifi, and, most importantly, a clothing rack to hang your outfits and a full length mirror.
The concerts are the main draw at M'era Luna with an open air stage with nearly unlimited viewing capacity and a second stage in an airplane hangar. The very eclectic line-up for 2017 includes headliners Korn, And One, Subway to Sally and ASP. In addition to concerts, M'era offers a vendor area, a fashion show, and a medieval market. Pack your sunscreen and shades as well as your rubber boots and umbrella, with unpredictable German summer weather, it's either cloudless and boiling hot or rainy and muddy.
August 25th – 27th Infest in West Yorkshire, UK
Infest is the UK's biggest industrial, ebm, noise festival held indoors (no sun screen required!) where festival goers stay in campus halls, as the event is held at the University of Bradford in the north of England. This year the line-up boasts German legends Die Krupps and Rotersand, as well as industrial icons Revolting Cocks, but the roster isn't complete yet so keep checking back for new acts to be announced.
If this preview is anything to go by, Europe have got their festivals down to a fine art, with successful city-wide events year after year. Amazing line-ups, cultural accompaniments and shopping distractions make each weekend a reoccurring date in many a goth calendar. If only the weather were so reliable!