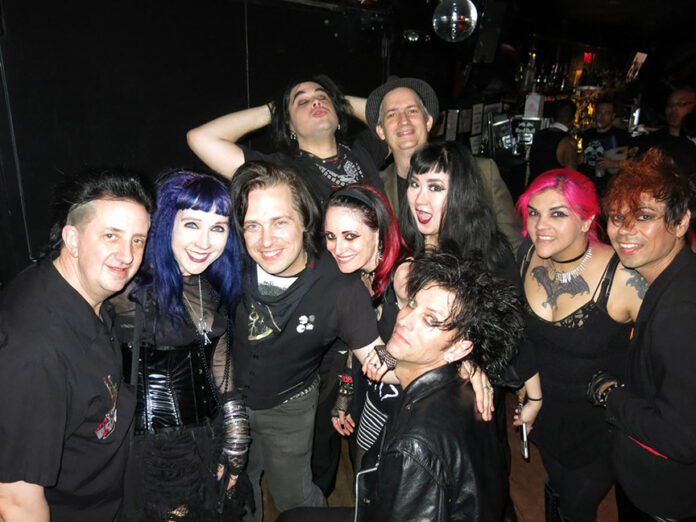 No tears for the creatures of the night!" intones Voltaire, towering over the crowd at New York's Mercury Lounge in full Baphomet drag.  As MC of the first night of the Murder of Crows weekend, Voltaire caps off the powerhouse line-up of the musicians and DJs who have all come together to make a signature Gothic music event.  "It feels like the height of Gothic New York City," says Voltaire, with "the crème de le crème of Gothic and Deathrock and Darkwave DJs and bands here, not just from New York, but from LA and the UK too."  Indeed, the bill boasts the Brickbats and the Harrow from New York, and Peeling Grey from LA.  On the DJ front, there's Dave Bats, who runs the monthly Release the Bats party in Long Beach, CA with Jenn Bats, and who pulls double-duty by also playing bass for Peeling Grey, martin oldgoth ("writes his name in lower case, he likes it like that"), longtime British DJ  and co-runner of thirteen13 Ltd. with Brigitte Gothtart, New York's own longtime DJ Patrick, currently co-running Salvation, and the alleged "captain" of this motley crew is DJ Sean Templar, creator of the Red Party, which is hosted by Mandana Banshie.  For two nights in August, all conditions point to sheer dark celebration of the scene and especially of the music.
A curious thing to note, but in larger cities, the Goth scene itself is more fractured than one might expect.  In New York, for instance, many parties are small in comparison to the glory days of the Bank and Albion/Batcave, and the constant debate and redefinition of "what is Goth anyway," or even worse, "is Goth dead?" doesn't always favor the hybrid, catch-all approach smaller cities and communities rely upon to fuel their local scenes.  Is it a matter of EBM and synthpop having swallowed up their post-punk and rock roots?  "I think the scene, the world in general, is in deep transition," says Peeling Grey's Andy Smith.  "I think we get so wrapped up in what it was, and while we have the best of intentions, those can backfire…but music should come first, no matter what it is."
And the good news is that purely Gothic music isn't actually a thing of the past; there are still new bands making new music right this very second.  Spinning since 1992, DJ Patrick says, "My primary goal…was always to keep the scene relevant and promote a lot of new bands, since a lot of Goth nights just end up being retro nights.  The resistance to new music is a major obstacle, especially with DJs who are terrified to play something new or different.  If regulars never to hear new tunes, they most likely won't even know there are still quality tracks being released."  Sean Templar chimes in, "I think most people know I would rather clear a dance floor with a new song than pack it with the same safety dance routine.  Otherwise, you are just a glorified jukebox….Luckily, here you have a bunch of kindred spirits where that is concerned."  And it's true.  Born from wanting to band together and not everyone getting to meet up at Wave Gotik Treffen this past May, plans were made.  New York won by virtue of being in the middle, according to Dave Bats, and not even the prospect of being in NYC in the dead of August dampened anyone's enthusiasm.
The Brickbats take the stage first.  After a thirteen-year hiatus, give or take, this is their first New York show since a 2013 performance at Otto's Shrunken Head, but they tear into their set with ferocious enthusiasm, kicking off with "Distort & Amputate."  Although they're currently a trio  – Corey Gorey on guitar, DW Friend on drums, and Jason Trioxin on bass – their sound is tremendous and full of energy.  With campy ghoulish make-up, and a steady stream of quips, their set zooms along, pumping up the packed house.  DW Friend describes them as "…too goth for punk, we're too punk for Goth, we're too garage for glam, we're too glam for garage."  (Hey, if it worked for the Cramps…)  Due to the brevity of their songs, the Brickbats pack a lot of their hits into their set, Corey Gorey lunging around the stage as he delivers his lead vocals, DW Friend often standing up even as he keeps hammering out the beats of a high-octane "Hell House" or the rolling deep tempo of "Concentration Cramps."  They even include a new song, "Scare the Pants Off of You," dedicated to their late bandmate Paul Morden.  Gorey says wherever Paul is now, he's pretty sure Paul's watching them and saying, 'you guys suck."  Closing their set is the crowd-pleaser "Hysterical," although they do return for an encore, aptly titled, as Gorey notes, "We Gotta Go."  The first band has gone on without a hitch and has blasted the crowd with pure monster rock energy.  Off to the side of the control booth, martin oldgoth starts spinning from a makeshift DJ station, with decks borrowed from local DJ Matt V-Christ.  Instead of headphones, martin uses a phone handle to cue up his tracks.  The night is fully underway, and the bar is packed.
Coordinating one night of bands is stressful.  Running a monthly party is stressful.  Marrying the two for one weekend?  Possible insanity, especially given this event was originated around the time of this year's Wave Gotik Treffen festival, and arranged and executed in under three months.  There were doubts it could work on this level, "I think the biggest hurdle facing us truly is that our 'scene' here in NYC is not much for live acts," says Sean Templar.  "It takes a lot of cajoling to get people out for local gigs…it goes back to new music and some indifference in the beginning to it."  While all the talent involved spoke to the frustration and rewards of introducing people to new music and bands, a more practical and more potentially immovable obstacle that's become the bane of all Goth parties in New York presented itself – finding a proper venue for the bands.  With the mainstream culture more geared towards club culture as a whole, New York has become particularly tailored for EDM and VIPs and bottle services and so on.  Against those odds, how far can a little DIY really take a promoter, no matter how well-established?
Through their network, Templar and Mandana Banshie eventually hooked up with the Mercury Lounge, one of the last holdouts of a more underground and independent East Village music scene.  The Mercury Lounge had all the right ingredients.  "We wanted to keep the event in Manhattan," says Banshie.  "We wanted a central place that was easy for everyone from around the area to get to, and Mercury is the right size…and we loved that it was right next to the old Bank building."  Although the Mercury Lounge wasn't used to late-night events, especially Gothic ones, they were willing to work with Templar and Banshie, a rarity when most venues mistakenly believe the Goth scene doesn't make a lot of financial sense.  With the venue on board, the plans fell into place quickly.
Peeling Grey takes the stage for the second act of the night.  Each band member – singer and guitarist Andy Smith, bassist Dave Skott (Bats), drummer Brad Hartman, and Naren Renz on synths – has his own distinct visual aesthetic, almost giving the impression they come from four different acts.  But perhaps they're able to draw on those influences to form their post-punk sound, the UK by way of LA.  Smith asks the control booth for some delay and reverb before launching into their self-titled first song.  Following that is "Life is Sin," from their new album with that reverb creating fuzzed playback, contrasting against tinkly synths.  There are echoes of the Cure, of Christian Death, of early New Order throughout the set.  Here, a New Romantic tinge colors the slowly building "The Siren's Call," there, a more straight-forward ballad as "Our Sky's Falling."  Their set ends with a cover of the Cure's "A Forest," which stays true to the deep synths of the anticipatory intro, and then kicks it up as a more rocked-out version with fuzzed guitars.  A notoriously stoic New York crowd rewards this selection by making it the most danced-out moment of the night.  It might demonstrate the underlying difficulties of getting a crowd to appreciate new music, but the response also shows the approval listeners deal out to those who acknowledge their influences.
Rounding out the evening is a slice of Darkwave with the Harrow.  Pulled together from various past New York acts including Greg Fasolino from Bell Hollow and Frank Deserto and Barrett Hiatt from Revel Hotel, the Harrow kicks of their set with the intro "We Run," which sounds like it comes straight out of a contemporary sci-fi movie.  Projected on the wall behind them, as well as over the band themselves, are abstract and unsettling visuals.  The group as a whole dresses in cool minimalist black, looking every bit the New York art band that they are.  Taking a chance, much like their DJ compatriots are wont to do, the Harrow plays all new material, with only the darkly chilling "Axis" and their set-closing cover of the Glove's "Mouth to Mouth" having been released to date.  Vanessa Irena's vocals are dreamy, often feeling like another instrument constructing the soundscapes as opposed to leading the melody (although that could've been due to the sound mixing).  While there's evidence of their post-punk influences, the Harrow demonstrate a willingness to borrow from other musical inspirations.  Instead of big spaces in their sound, "Dirty Minds" in particular uses fuzzy, skittery guitars and heavy rhythms to create a densely layered sound with a hypnotic melody.  They keep the energy up with Hiatt hammering the synths, and everyone moving around the stage.  By the time "Mouth to Mouth" is played, it's pretty late, but one audience member in particular is so into it, he's jumping up and down until the very last note.   Sean Templar jumps back onto the DJ decks.  The bands are done, business at the bar remains brisk, and now the celebrations truly commence.
"Ideally, the way it works is that we're a community of like-minded souls," says martin.  "We like similar music that's largely guitar-based, tribal, and more than a touch underground…I've worked in a number of places to different crowds, and it's the music that binds us, that gives us that unity.  We're a family."  True to that sentiment is the crowded and deliriously joyful Red Party the next night at its current location in the gallery of Le Possion Rouge.  Dave Bats and martin join Templar and DJ Cyn on the decks, and Jenn Bats and Brigitte Gothtart join Banshie as hosts, resulting in a festive night, scored by a generous array of tracks not frequently heard before – because, as everyone keeps saying, there's an embarrassment of new music out there – and a constantly packed floor.  Another local DJ, Annabel Evil, has provided thematically decorated cupcakes, and everyone's face is full of grins.  The hard part is over, and not even the last-minute crisis of needing DJ decks at the Mercury caused anything more than a momentary hitch.  "Every promoter I reached out to was willing to help,' says Banshie.  "Matt [V-Christ] was the first to respond.  It's amazing how all the promoters are willing to work together and help out."  The true strength in this community depends on everyone invested in its success, whether they're directly involved or not.  A Murder of Crows reflects a need that had to be met, and everyone's support of it makes it clear how much they wanted it to happen.  Their actions uphold Dave Bats's declaration that "'the scene' is supposed to work together, show support, and not bring an entitled attitude into a club or party…relax and enjoy what the bands are creating and trust the DJs more.  We know what we're doin' here, people!"
And judging by the success of this weekend, they absolutely do know what they're doing.  "Mercury told us that Friday night was their most successful show this summer as far as ticket sales and bar sales," says Banshie.  "It shows we bring in money to a venue not normally used to a Goth crowd."  The turn-out and response were huge enough that one can't help but ask "when will you do it again?"  Could this even lead to America's own Gothic music festival, one that can compare to Treffen or Whitby Gothic Weekend?  "WGT and WGW both started out rather small with modest expectations, so you never know where something like this could lead," says Patrick.  "You would have to let it build naturally and not force things."  "Agreed!" says Dave Bats.  "I don't see why not.  With all of us combined, we have a hundred years of experience, and lots of great friends and associates that would be perfect for a US Gothic festival to happen.  Sky's the limit as far as I can see!"  With this kind of enthusiasm and commitment already demonstrated, it does indeed feel like anything's possible right now.  "Who knows what comes next?" says Templar.  "Mighty oaks from little acorns grow."
Everyone involved with this event was incredibly gracious with time and information to make this story happen as well.  Check out their links and live vicariously through the power of the internet. The Red Party is New York's only purely Gothic party currently running monthly. Release the Bats is LA's long-running monthly Gothic party.  No pressure, Red Party. martin oldgoth has had the dubious pleasure of representing an entire country for this event. The Brickbats can be currently found haunting Facebook Peeling Grey is all over the social media thing, but why not start with their website? Be ready for the debut LP Silhouettes from the Harrow, slated for release in November, 2015. You can find Voltaire here, or maybe under your bed.  Better check now just to make sure.