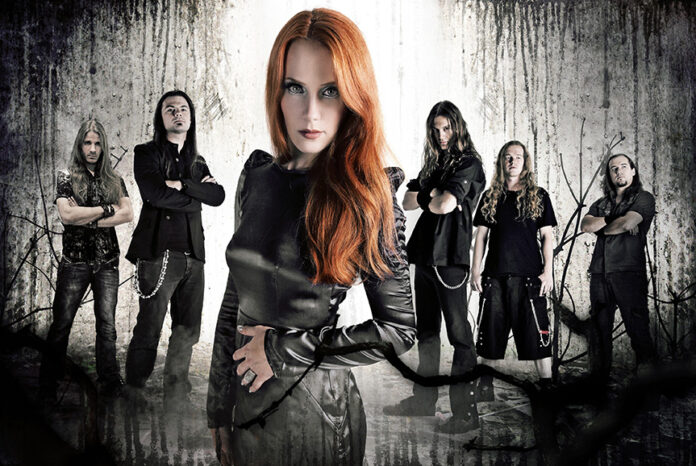 With their "Retrospect" DVD out in the US, Epica commemorate a decade of sweeping classical-influenced gothic and epic metal. We checked in with vocalist Simone Simons at home in Holland, where she's busy caring for her new baby while working on lyrics for the next Epica album.
Can you give us a brief overview of your musical background?
I've been taking classical singing lessons since I was 17 and I also sang in the choir and played the flute. These were private lessons, I didn't study at a conservatory.
Since you've done some work with a live orchestra I'm wondering whether there's someone within the band who handles the orchestration?
Mark, who's been the main composer from the beginning, is self-taught. Our keyboard player, Coen Jannsen, is a classically trained piano player and attended a music conservatory, he's the one responsible for the choir. Ariën, our drummer, is also classically trained. Isaac also went to a music school, though it was a more modern one that also teaches pop and rock. Rob, our bassist, is also classically trained. We're all big fans of movie scores and classical music, and we've been fitting it into our music since the beginning. We've done shows before this one with an orchestra, but it's impossible to do it at every show.
Obviously with the Retrospect show you were able to include an orchestra and a choir, but with normal shows do you just handle it with backing tapes?
Yeah, the stage is too small and it takes a lot of organization to make it all happen. That's actually the way our music is supposed to sound, so doing a show like Retrospect is amazing. I'm a big fan of choirs, and also of the orchestra who we worked with, who're from Hungary, so we were very happy to work with all those people again.
Is that something you've been able to do before, putting all the pieces together with the orchestra and the choir for a live show?
Yes, three or four years ago in Hungary. We released a live CD from that. There were two sets, the first was classical pieces and movie scores, the second was Epica songs. With the Retrospect show there were a lot more extras though – bigger and better.
There are a lot of different movie influences- have you ever done a soundtrack?
Yes we have. Many years ago, when we were still under contract with our old record label, we were contacted to do the music for a Dutch movie called Joyride. Unfortunately our collaboration ended and our music wasn't used, so we released a CD called The Score with the music that was originally composed for the movie.
What kinds of movies do you draw influences from?
It's less the movies and more the movie composers, like Danny Elfman and John Williams. Elfman's score for The Nightmare Before Christmas, or the Batman score.
Is that something you'd like to do more of in the future, soundtrack work?
I'd actually really love to sing on a movie score. The Score has none of my vocals on it, it's instrumental, and I love for example what they did with Lisa Gerard on Gladiator. I love the effect that music has on movies. Images and audio can enhance each other.
If you ever watch a horror movie and turn the sound off you realize how much of a difference the music actually makes…
It's funny that you say that because I did that with Gladiator. You saw the movie? Near the end where he's dying and you hear Lisa singing I always have to cry, and one time I switched off the music because I wanted to see how strong the effect of the music is, and without the music I don't cry.
Going back to the Retrospect show, how many people were there?
There were about four and a half thousand people at the venue. We were also streaming the show worldwide, so there were at least two or three thousand people watching the show from their computers as we played.
How did that go? There have been a few bands that have tried it, but for a while the technology wasn't really there in terms of not buffering well or similar issues.
As far as I know things went great. We had a separate camera crew that was responsible purely for the livestream rather than shooting for the DVD, so we really did prepare everything as carefully as we could. Obviously people who followed the livestream needed a good internet connection, but we had good responses. It was a success, and I think it's a great way to make fans who can't make it to the show be there right at that moment.
You guys are known as a band that makes a lot of effort to connect with your fans. I'm curious about your overall approach to the issue of how best to connect with fans?
We started off having a fanclub and a fanzine, and we also organized fan meetings and meetups. As the internet became more prominent we've made ourselves available online too. Now we mostly communicate with our fans via Facebook, and yesterday we had an online chat with fans. For me it's impossible to go out and meet everyone after shows because there are a lot of people and I need to rest my voice, but we do love to stay in touch with fans via Twitter, and I also have a blog. I think it's really important to keep in touch with fans, and I've met so many lovely people who love what we do, and I'm thankful for that. It's part of our job to show appreciation.