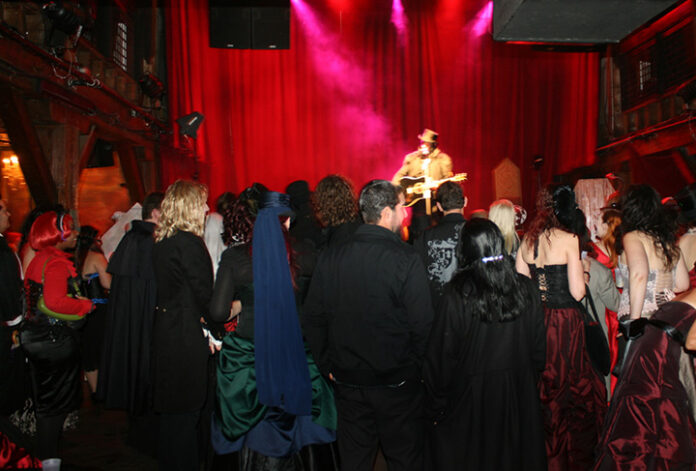 Steep yourself in spookiness with a divine cast of decadent ghouls that come from around the world to celebrate darkness for All Hallows weekend. New Orleans has largely recovered from Hurricane Katrina and is host to some of the best Halloween spectacles and events anywhere. Goths and vampire fans in particular converge here annually for this ever-growing Bacchanalian series of parties. The lure of the sultry, dark city of New Orleans is legendary. Literature and movies have tried to capture the mystique but nothing compares to experiencing it in person.
As a fan of the Vampire Lestat book series, for years I dreamed of attending the famous Anne Rice Halloween Ball, originally held at her mansion in the Garden District in 1988. The story goes that the Anne Rice's costume ball (Le Temps du Vampire) eventually became an annual event with new themes each year. As it's popularity grew, more parties started popping up. Finally in 2009, I had the opportunity to not only attend, but also perform with my band, Saints of Ruin. Immediately, we were hooked. This was our third consecutive year spending Halloween in the crescent city and it just keeps getting better. Hundreds of goths and fans of vampire lore find their way each year to see and be seen, drink and dance. At the risk of coming off like a travel article, there are many attractions that I feel compelled to list, to entice you to come and see for yourself. Beyond the usual activities of exploring the French Quarter, cemeteries, swamps and the cuisine, there are annual events that were developed for our sub-culture. Nowhere else will you be made to feel so at home with kindred spirits of darkness.
Friday night is home to the Anne Rice Vampire Lestat Fan Club's main event. This year the theme was Theatre of the Vampires and featured performances by Voltaire, Paul Mercer, Curie, The Changelings, burlesque acts and even theatrical enactments of scenes from Interview with the Vampire. Anne herself did not attend but addressed her fans via video to kick off the year's festivities. Attendees wear Victorian gowns and frock coats among other classic ghoulish attire, sip wine and mingle in a dramatic setting created for the fans of the Vampire Lestat. Each year the organizers raise funds for local charities while steeping their fans in three days of Undead-Con: including the Ball itself, wine tasting and cocktail events, vampire films and authors forums.
And if Lestat lords over Friday night, Endless Night dominates the Saturday that precedes All Hallows Eve. Starting in 1996, Endless Night brought its New York-based vampire gala to the city adding a new level of decadence and remarkably costumed, sexy vamps to the scene. Nowhere else can you schmooze with hot vampires of both sexes, gaze into their supernaturally lensed eyes, dance to industrial, EBM and darkwave and have custom fangs made by world renowned fangsmiths while sipping vodka blood shooters in test tubes. Bewitching bellydancers, fetish performers, velvet-voiced divas and cutting edge bands performed at the decked-out House Of Blues at this year's Steampunk Soiree. Endless Night hosts pub-crawls, a meet-and-greet VIP reception with music, more fangsmithing, book signings and after-parties and are affiliated with Lord Chaz's Street Theater tours in the French Quarter. The Endless Night organizers also throw parties in NYC, Chicago, Paris, and even Venice.
While the two afore mentioned events are not to be missed, there are a number of other activities that bear mentioning. The New Orleans Witches Ball held its first event in a Garden District mansion. House Of Shock is one of the top-rated haunted houses in the world and is just outside of the city. Fear Fest music festival spans the weekend before Halloween while the massive three-day festival Voodoo Music Fest takes over City Park with national acts on Halloween weekend. The French Quarter is usually graced with a wonderful Halloween parade but was oddly canceled this year. Still there are many spectacles to be seen roaming around the Quarter by day or night.
But why bother with entertainment for the masses? The darker side of the city offers bars like the aptly named Dungeon, and Pravda, with its Russian décor and splendid selection of absinthe. Drinking is inexpensive in most bars in the quarter so be careful not to get carried away. Horse drawn carriages and ghost tours are well worth the time and price (which is usually negotiable). And cemeteries; really, you cannot go to New Orleans without a visit to the legendary St. Louis #1 or Lafayette #1 in the Garden District.
For shopping, make sure to peruse the Boutique du Vampyre for creepy oddities, Wicked Orleans for off-the-rack goth brands, Road Kill for novelties and Fifi Mahoney's for wild wigs and makeup. Antique shops and art galleries line Royal Street and original art vendors surrounding Jackson Square afford a unique shopping experience. The French Market will do for souvenirs but avoid crowded weekends. Make a trip to Magazine Street to shop Trashy Diva, Bootsy's and Funky Monkey. And dare I begin with the food? Restaurants are too numerous to mention but I offer two words: Fried. Extraordinary.
Still, one of my favorite aspects of this annual foray is the auspicious opportunity to sport well planned outfits. I find myself shopping in February thinking, "These boots would be perfect for the ball." And clearly, I am not the only one. The eye candy is plentiful. Halloween in New Orleans is a chance to expose our creative side through our unique sense of fashion. Our clothing and accessories serve as wonderful conversation pieces as we make new acquaintances.
The goth scene has all but faded from the once night-vibrant New Orleans. But Halloween still brings an influx of outsiders that are at once in tune with the low pulse that belies this ancient river town. Its spirit unchanged through centuries of strangers like us passing through it, seeking adventure and abandon, mystery and mischief. We darklings love this romantic stuff- it's irresistibly fun. In all, the New Orleans Halloween experience is a debaucherous romp. I have made dear friends and drank til dawn with them. The weekend of Halloween brings us together as a community where our misfit natures reign supreme during this powerful time of year. I invite you to join us in New Orleans for Halloween 2012. Hope to meet you in the Quarter.