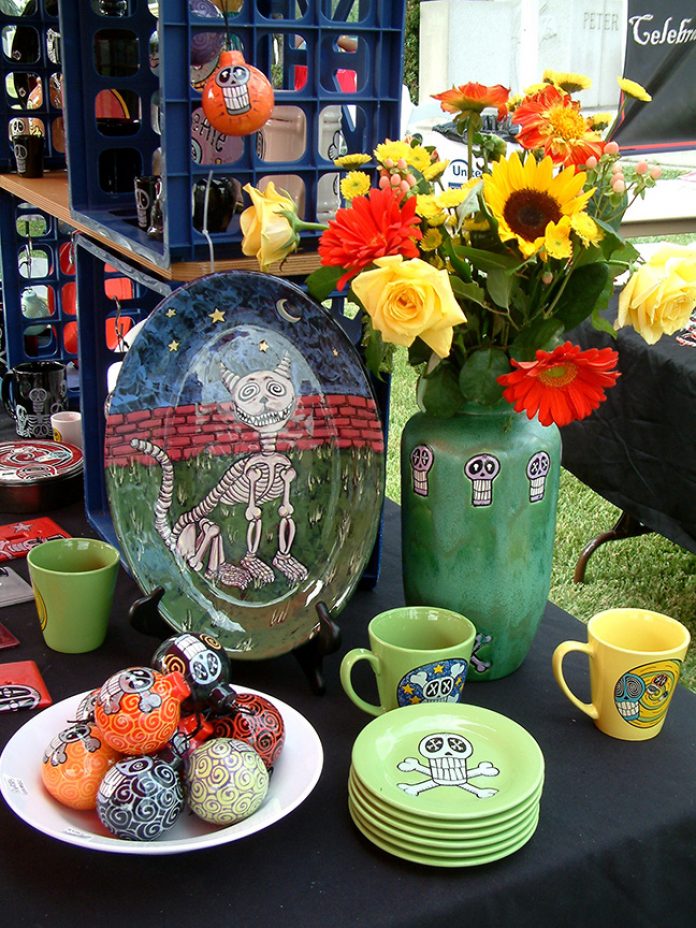 Interior design is becoming more captivating and gratifying as more gifted artists are offering unique pieces for your home décor. Skeleton art is no longer only an acceptable ornament in the month of October but can be used all year round. Attractive, handmade ceramics painted with lustrous, colorful amusing skeletons can be found at Skellramics.
The skull is such a universal symbol. All over the world in every culture it is interpreted and used in so many different ways. It is a key image in the natural cycle of life and death and human existence, used in Buddhist & Hindu meditation paintings, and in the Mexican Dia de Los Muertos Celebrations to honor the dead, to remember what you got from the deceased's connection to your life or to be thankful for having them at all. It is trying to remind you of history in a personalized sense. Or, to have you keep in mind the reality that time is limited in each of our lives. My skulls have been accused, on occasion, of seeming too happy, but who knows for sure what they are grinning at? It's all up for individual interpretation, I myself have a dark sense of humor, everyone has their own trigger or reasons for what makes them smile.
Kelly Morse has been designing Skellramics art since 1990. The idea for skeleton adorned ceramics started in the late 1980's in Los Angeles. Kelly was born in San Diego which is located close to the border so he visited Mexico often while growing up which definitely had an influence on his art. He moved to LA in 1983 where he started a band called, Mindslide, with several local Goth musicians. While he worked on his music career and getting shows on the sunset strip he started working at a handmade tile factory. Here he began creating custom decorative tiles and murals. This eventually taught him his knowledge of ceramics and opened the door to the world of Skellramics.
In my spare time I began to experiment with making other types of ceramic art. Several of the pieces had skeletons worked into the imagery. People that saw them kept asking me to make one for them too. Soon I began selling them in local boutiques and galleries around Long Beach and Los Angeles. One of my first major shows was at La luz de la Jesus which was located on Melrose.
Kelly comes up with new designs weekly. He also makes custom items such as skeleton figurines for wedding cakes, jovial kitchenware and festive goblets. Approximately half of the items made each year are one of a kind pieces and another portion are limited editions. His illustrious selection of ceramics include silver jewelry like corseted and devilish hearts, crossbones and star swirl T-shirts, skeleton band greeting cards, mugs with bone handles, grinning skull tea sets, shot glasses and magnets. Some of the best selling items are skull and crossbones vases, infernal firewater potion and tonic bottles, sacred heart and crowned skull jewelry boxes and formal skeleton wedding couples. I asked Kelly what some of his favorite designs are.
That changes on an on-going basis, I enjoy surprising myself. With ceramics when you apply glazes, the color of the glaze before firing usually looks nothing like what it will look like after firing. Every time you open a kiln it's exciting because you don't really know what a piece will look like until you unload it. The Ceramic process has a will of it's own the artist making a piece can lead it in a certain direction, but ultimately the final result is up to the piece itself.
Kelly has a home studio in northern Los Angeles County with several kilns where everything is made year round. Skellramics can be found online as well as select stores all over the US. He also does a lot of conventions such as Comic-con, Fangoria LA, Bizarre Bazaar, Tribal Fest and Artwalk as well as many belly dancing, burlesque and pirate festivals. You may also find him at special events like for the Dia de los Muetros celebration that takes place every year in the Hollywood Forever Cemetery where there are beautiful altars created at the grave sites, traditional dancers, music, food and art. In the future he would like to continue creating art that people enjoy and work on paintings with a related theme.
My tastes have always veered to the darker side; as long as you can keep some humor with you the darkness isn't all that scary. Halloween was always my favorite time of year growing up, getting to do art projects in school like creating a haunted house, drawing and painting ghosts, bats and black cats always brought great cheer to my heart. While still in high school in the late 70's, before "Goth" existed as a recognized subculture, I wore all black quite often, people not knowing what to make of it would either ask if I was headed for a funeral, or call me Johnny cash. I've collected skeleton art for years that's how I started making skeleton art, for myself.
I also collect Mexican skeleton art and always bring back with me another cherished acquisition whenever I go to Mexico. I feel that by embracing the knowledge of our frail mortality that you can truly appreciate life. Furthermore, I'm captivated by the look and composition of brightly, painted skeletons grinning like Cheshire cats. My home currently has a Tex-Mex theme and I am always on a quest for ways to expand on the motif. I feel the mirthful; functional art of Skellarmics will be an excellent addition to my surroundings.  www.skellramics.com