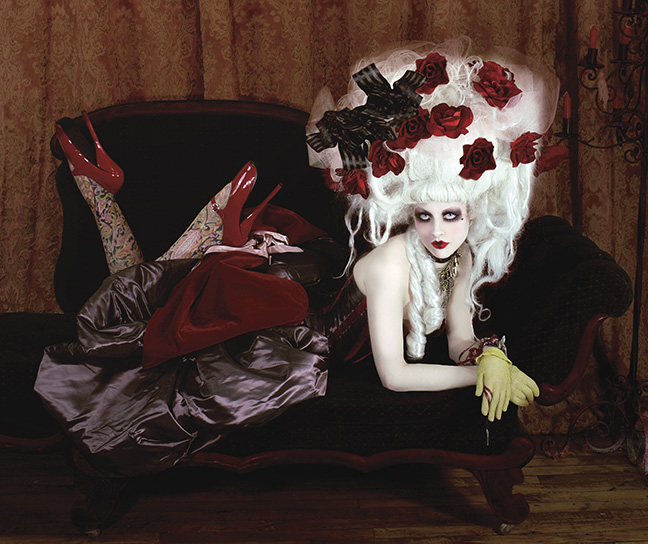 A young Kathleen Marie sat in her 9th grade history class, watching a re-enactment of the French Revolution. As part of the act, a nun entered the classroom, but in place of her traditional nun's habit she came wrapped in a vintage fur coat, dripping with rhinestones and costume jewelry, attempting to portray the late Marie Antoinette. The sight of the sparkling and opulent, yet tragic French Queen, left Kathleen Marie intrigued, and she couldn't help but beg the question, "Why did this beautiful woman have to die so violently at the hands of the people?"
This event, while brief, was a turning point in the life of designer, Kathleen Marie. It sparked her fascination with 18th century France and its fashion, which became a major inspiration for her designs and artistic work. Her intrigue set into motion the eventual inception of Kathleen Marie Couture, and more specifically, her Marie Antoinette-inspired shop, Antoinette's Atelier.
Kathleen Marie's creations are ones of femininity and extraordinary decadence. Some of her creations include a pink powdered wig that houses a birdcage, as well as a crimson-colored wig piled high and topped with a small, intricate pirate ship. Her jewelry and accessories are drenched in glitter, adorned with oversized bows, lace, and cameos. The dresses she creates spill over with layers of colored tulle and brocade, brimming with ruffles and sparkling with Swarovski crystals. And all of her clothing and accessories are sold alongside delicate watercolor fashion paintings of fanciful aristocrats, each painted on distressed silk. Her work is regal, yet also retains a dark, sinister edge, due to what Marie describes as the mix of "glitter and doom" in her personality.
"When I work on something too commercial or conventionally 'pretty' or 'beautiful' I get nervous around it and want to…distress it, light it on fire, destroy it. Doesn't mean I actually do it…I am conscious of creating things that I find beautiful. But I like the beautiful with a bit of a twist."
It's apparent that Marie's twisted take on beauty is appreciated by many others as well. Her unique fashion approach has gained her a diverse array of clients and custom projects through the years. On one side of the spectrum she created ballerina dresses for a Swan Lake-themed Dances of Vice event, as well as a costume worn by well-known alt-model Aprella during Emilie Autumn's past European tour. On the other side of the spectrum, Marie has created corsets for Destiny's Child and latex bras for a Victoria's Secret Fashion show.
To get where she is now, Marie underwent a lot of trial and error. Back when she was her only client, and her main focus was simply to make "going out" clothes that would fit with her grand sense of style, she'd just jump right into a project and learn from her mistakes. Her first project was a corset made out of table cloth vinyl. "It lasted about five minutes on the body before it…just split down the side," she explains. "It looked really cool from the front, however! Did I learn from it, the experience, the disaster? You bet!" And with that attitude, Kathleen Marie kept going. While she did spend some time at fashion school in San Francisco, and eventually earned her BFA in apparel design from Savannah College of Art and Design, in terms of her journey to master the sewing machine, Marie was completely self-taught. And while she did love her art history classes on the Baroque and Rococo periods, in terms of her work, she says that she learned more from the gothGoth scene, club kids, and drag queens in the nightlife than she did from school.
When it comes to fellow designers, Marie cites LaCroix, Galliano, Dior, and McQueen as inspirations. She keeps one specific Galliano quote up on the wall of her studio—"Even when things were really bad, I never once thought 'that's it, now get on with your life.'" Marie considers the quote particularly poignant, seeing as "being an artist and making anything of good to exquisite measure is a difficult, difficult path." She adorns her walls with other images of inspiration, such as 18th century fashion plates and images of iconic celebrities, Elvis Presley and Cher—which are two of Marie's inspirations that may come as a surprise. She actually considers Cher to be one of her earliest influences, saying that Cher inspired her to become the artistic individual she is today.
Nowadays, even though Marie has moved way beyond flimsy corsets made of tablecloth vinyl, she still maintains a spirit of daring. When explaining a ball gown she recently completed—which features 100 yards of tulle, distressed satin, and beaded lace—she was inspired by her studio drapes. "I took them down and literally made a dress with them" she says. Other projects Marie is currently working on include powdered wigs set to be displayed in Versailles, and designs for a Circus/Steampunk stage production. She also has a number of one- of- a- kind garments in the works that she describes as "edgier/ anarchist style, but with the Antoinette luxury edge." It's become somewhat easier for Marie to work on these projects, seeing as her relocation from Brooklyn to upstate New York resulted in a great deal more studio space, and a new environment. "I have a studio that is five times bigger, it's quieter. I don't wake up to sounds of breaking glass, and car alarms. I waited a long, hard time for this moment, to focus on myself and my work solely…"
Even with the full list of design projects already in the works, Marie still finds the need to seek artistic fulfillment in a multitude of other avenues. Besides doing the styling and photography for all of her work, she's also an illustrator, painter, and she repaints and refashions mannequins and dolls. That being said, in terms of future plans and aspirations, Marie's list is quite extensive. First, she'll be pursuing the possibility of placing some of her one-of-a-kind pieces in boutiques. She also has a few fashion dolls she hopes to market by the year's end—not to mention aspirations for an entire line of 16" articulated haute couture fashion dolls. But really, what Kathleen would like is to be able to make all her artistic endeavors meet, perhaps one day having a fine art exhibit that combines live models in gowns, and her dolls, photography, and paintings combined. "I haven't yet found the perfect medium of expression. I am getting closer. It all has to do with the human condition, that's obvious.
Clothing and costume in itself is too vacant (even if my pieces have stories and are for spectacular special occasions). I like narratives, ornaments with meaning…I like dealing with the whole human subject. Not just a part of it." To put it quite plainly, Kathleen Marie wants to do it all. She may have made her mark in the world of 18th century couture, but she has no intention of stopping there.
You can find Kathleen Marie's work at KathleenMarieCouture.com.