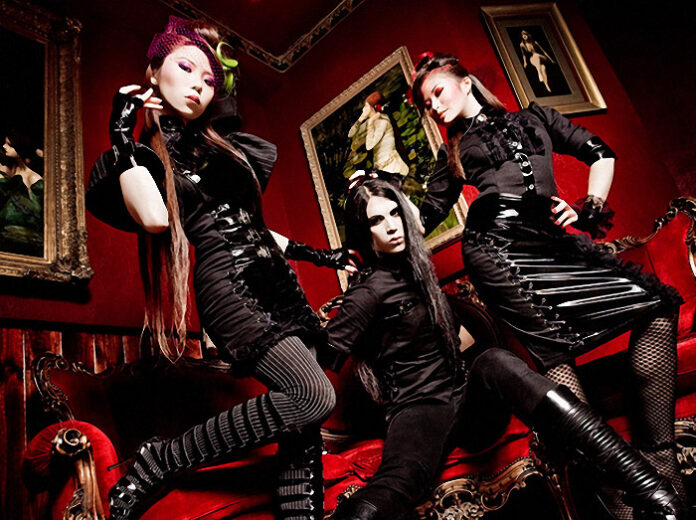 Severe, sexy and intense – PurPur Fashions are a wild card in both Australian and Russian Alt fashion scenes. Featuring both ready to wear and bespoke designs, it's a custom dressmaking and clothing studio that caters to Goths, fetishists and anyone looking for something seriously unique, situated in Melbourne, Australia owned and operated by Russian designer Kate Musina.
PurPur designs have a lot to offer in their creativity. Current limited edition ready to wear offerings include collections inspired by Soviet science fiction literature, 1930's military propaganda and modernized neo-Victorianism. PurPur designs are worked in a wide variety of materials, from PVC, leather, cotton and vinyl. Kate is especially fond of the custom component of her work; she creates custom, one of a kind works for bands, actors and artists from around the world and her clothing collections are made in a very limited quantity in order to keep her work fresh and ever developing.
Using dark and rich colours in her current lines, Kate's work is a bold expression of her inner emotions and personal history. It exhibits her close attention to detail and disregard for the conventions of "fitting in". These designs are something honest and original in their making. Not at all something you'll find hanging on the rack of your nearest department store – PurPur is a brand that will appeal to those who refuse to tone down their personalities to fit in. They can appeal to any number of tastes – post apocalyptic punk, uniform fanatics and pin up girls first come to mind, but the styles will tempt almost anyone with an eye for something unique and darkly fantastic. Wear these pieces to the club, to concerts, to anything worth dressing up for. Or if you're bold enough, wear them every day.
Kate describes her work as representing a concept rather than being just about clothes. Whenever she's creating she's constantly thinking of the intellectual backing behind her concept, not just how it looks visually. However, she also focuses closely on the functional elements as well and explains that she wants her clients to feel a different sort of emotions when they wear her designs from their everyday feelings. She wants to be able to alter their mood when they dress in her designs. So, it's no surprise that Kate's inspiration comes from her own deeper feelings and thoughts. She has something to say to the world and so she uses the medium of fashion to express that.
The development for a new PurPur collection takes roughly two months on average. It involves all stages from design and development to promotion and photography. However, when she's truly inspired she can create an entirely new design from the bottom up in a single night. All the while it's a very passionate and emotional thing for her; usually she prepares by resting up first before plunging into the research and working hard for 24 hour days to see the idea through. Kate typically doesn't spend much time with the sketches though, diving right into the physical effort of the design as she starts to play with the materials first and only then moving onto pattern drafting and samples.
Something very interesting about Kate is her background. Before Kate launched into PurPur as a full time pursuit, she had earned a law degree in Russia, graduating with honors and becoming a lawyer's assistant. After finding she much preferred to be a dressmaker, she quit law and became a sole trader in Moscow as a custom dressmaker and designer.
A self taught seamstress who continually researches and studies new methods, Kate never went to fashion school before she launched PurPur. Dedicated and ambitious, she forged her own way into the alt fashion industry by teaching herself these skills when she was 18 and simply wanting to dress herself for clubbing and parties. When her friends wanted in on the designs, it quickly became a part time job for her as her talent became obvious to those she clothed.
One of the things that really aided in PurPur's emergence was how quickly Kate made a name for herself with musicians, fetish models and public figures who really supported her development through word of mouth. In Russia, she's known widely as a talented alternative fashion figure and she has appeared numerous times on television for her popular alt and fetish designs.
Now she attends the British Higher School of Art and Design in order to continue developing her craft and expanding her company. She currently operates in Australia, but has devoted followings in Russia and throughout Europe while her influence continues to spread. She takes this expansion seriously, taking a serious look at PurPur as a developing business, working with shops and clients to grow and develop without cease.
Over the last few years Kate has learned a lot during this growth period. She explains that at the start she's made a lot of mistakes, but they're important mistakes because they're hers and she learns from each of them as she picks up and starts again. She values every new lesson as a step forward in her progress. Each trial and error is a new lesson that teaches her something to carry on from.
Having relocated to Australia in 2009 she now operates from Melbourne while continually traveling back and forth from Russia and Europe. Her ready to wear collections are available in a variety of Australian shops including VnV boutique in Melbourne, Gallery Serpentine in Sydney and Mame Clothing in Perth. You can also purchase her designs online and contact Kate for custom work. If you're in the U.K., you will also be able to see PurPur fashions at the London Edge show in February, 2012 where they will be joined by Gallery Serpentine.
PurPur already has a new collection on the horizon as Kate has started the development process for a new line that she describes as "a strange collection". Be sure to check out her current offerings and more at the PurPur website – www.PurPurFashion.com.