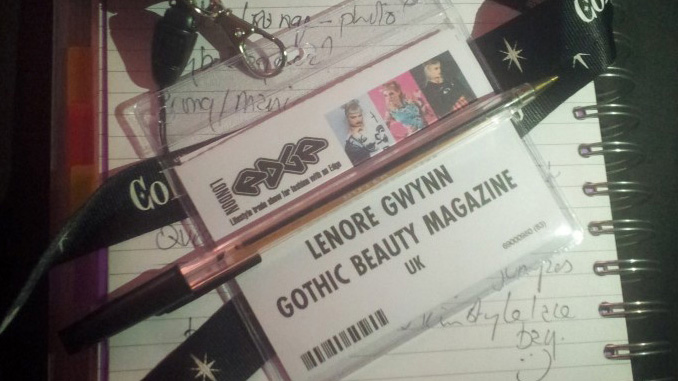 As we got off the tube at Angel, it was clear we were in the right place. A guy with a bleached flat-top, studded leather jacket and creepers asked us the way to the Design Centre, his partner stood studying the city map behind him, her green hair piled on top of her head. Angel, in London, UK, was the new location of London Edge.
After rushing to the venue for fear of being late, I arrived flustered and a bit sweaty, only to be surrounded by perfectly coiffured pin-up and alternative models. As my photographer got his picture taken, surrounded by rockabilly beauties, I had some champagne and chatted to other bloggers, fashion buyers and organizers. There were cupcakes courtesy of The Tattooed Bakers and goody bags with treats from the likes of Cyberdog and Alchemy Gothic (it's a hard life being a journalist sometimes).
After checking out our first catwalk of the day (mainly vintage clothing unfortunately for us) we visited the stands who had travelled from all over the world to be there, including Queen Of Darkness from Germany, Italy's New Rock, Lip Service from the US and the UKs own Prong Jewelry (among others). Our second catwalk show had a lot more gothic inspired clothing so our camera got put to good use after which we popped across the road to a pub for a late lunch. While we ate our posh club sandwiches there was a photo shoot going on in the middle of street – the whole area had been taken over by 7ft tall models with spiked boots and pink hair.
After the show had closed trading for the day, there was the obligatory after-party. This year it was being held in London's alternative capital Camden and it wasn't the only one. Futuristic label Cyberdog were celebrating their 2oth Anniversary and their party was in full swing with dancers, live djs, stiltwalkers and fashion shows. Camden was in overdrive that night! Before taking advantage of the after-party, my photographer and I were ushered into one of the bars with a lot of ladies in vintage dresses, told to sit in a big group and have our photo taken. It was about that time we realized we had stumbled into the promo party for retro label Collectif and accidentally been included in their 100 Dresses photoshoot. Oops. Needless to say I stood out like a sore thumb with pink bunches, cyber boots and a skintight all-black outfit. After make quick our exit we grabbed a few drinks and took in the entertainment – a fabulous drag act Meth (which had me in stitches), burlesque by Slinky Sparkles and a DJ set by bearded flavor-of-the-month Ricky Hall.
After such a glamorous evening it seemed ironic to be sat on the train home eating greasy takeaway burgers before falling asleep. By the time the train pulled into my station my bag, that I had been using for a pillow, had imprinted itself on my forehead and my feet had begun to ache. A swift taxi ride and I was home, leaving my goody bag as a treat to be opened the next morning.
Read the full fashion report with glossy pics in a future issue of Gothic Beauty and be sure to read my interview with Chi Chi the space Chihuahua from Cyberdog in issue 45, out for pre-order now