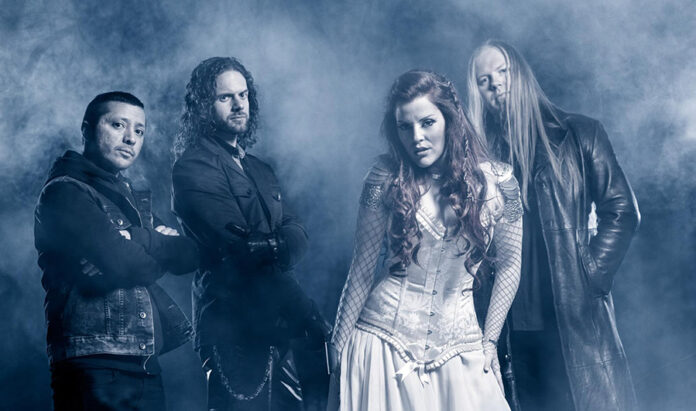 Norwegian gothic/symphonic metal band Sirenia have made quite a name for themselves with their multi-instrumental musical talents over the years. With their seventh studio record The Seventh Life Path hitting stores, main songwriter Morten Veland gave Gothic Beauty the lowdown and shared some of his alcohol related hobbies.
So how have things been since the release of The Seventh Life Path which hit stores late last month?
It's been busy, our days are filled with interviews, promo stuff and rehearsing. It feels great to be finished with all the studiowork and start working on different things at this point. It will also be interesting to see how the fans will react to the new album.
Having only been released a few days ago, I'm assuming you've not yet had chance to play the new material live, where are you planning on heading to first?
Actually we played a festival in England this weekend where we performed 4-5 new songs for the first time. It was very cool, I think the new stuff works out very well live; it is very powerful, bombastic and energetic so it gives me a kick playing them live. It seemed as though the crowd really liked them as well.
Is there anywhere you've not yet toured but would love to if given the chance?
I'd love to tour North America, I've always wanted to, but we've not been able to do so yet. I hope that an opportunity comes along soon, it seems Sirenia has gained more fans overseas lately so hopefully we will make it over there.
Your music has a distinct gothic sound, where did you draw or gather inspiration from for this record and are there a lot of themes that run throughout?
Sirenia's sound has always been a mixture of a lot of different kinds of musical genres that I like. Our style is a mixture of metal and rock with influences from classical music, death metal, black metal, gothic rock and a lot of other stuff as well. We also use a lot of different vocal styles on our albums like female vocals, choirs, growling, clean male vocals and so on. My sources of inspiration are the same as always, all the dark aspects of life.
I'm a big fan of the coverwork, who designed it and how important is the coverwork/packaging for you as a band?
Yes, I totally agree with you, I think the artwork turned out amazing and it really reflects the atmosphere on the album. The designer is called Gyula Havancsak. I think that the artwork is very important and I think it is important that the artwork also reflects the music in the best possible way.
How does the writing process work for Sirenia, do each of you add your own bits to a track to make it a collaborative effort?
All the song material is written by me as always, and I have developed my way of working over the years. I always prefer to work alone when I compose, as I always felt that was the only way I could really give 100%, I easily get distracted and lose focus when composing with others. I need to be in a certain mode when composing, and I can only enter this mode when I am alone. Regarding the vocals; Ailyn and I usually work together, I always write her melodies and lyrics at first, but next we come together and go through everything to see if there is certain things we can improve. In addition Jan Erik also had some inputs to the music which was cool. He listens to music which is quite different to what I usually make, so he helped out with some nice variations. Most of the album was recorded in my own studio here in Stavanger, at the South-West coast of Norway. We did some additional recordings in Sound Suite Studios in Marseilles as usual, we recorded the choirs and the acoustic guitars there and the album was mixed and mastered by Endre Kirkesola at Dub Studios, Norway.
Talking of writing lyrics, every musician, singer/song writer, and vocalist has a scrapbook of lyrics they've collated over the years; do you keep or destroy yours after finishing an album?
In the past I kept scrapbooks with a lot of ideas, and also kept the things that were not used. But the last 10 years or so, I have written on computer and I delete the stuff that I am not satisfied with.
Was there a specific compositional focus for you with The Seventh Life Path and did you approach the production for this one from a different angle compared to your last records, with recording sessions etc?
I always discover new things or techniques along the way, but the basics are more or less the same. At this point, I try to write albums that include all the elements of our style, by that I mean that I try to capture our old sound, our recent sound and in addition I always try to add some new stuff. We actually followed the same procedure as we did on our previous album Perils Of The Deep Blue, we also used the same studios and the same session musicians.
Your last record, Perils Of The Deep Blue gained a lot of positive response from fans, was there an added pressure writing this one?
Yes, that record got really great reviews and most people really liked it, so obviously we felt pressure. We always want to make better and better albums, and we have to work harder and harder to realize that goal.
When did you start penning down the new material for The Seventh Life Path, was it soon after Perils Of The Deep and who produced it?
I began writing some ideas for The Seventh Life Path even before the previous album was finished, but as soon as Perils Of The Deep was finished, I could focus fully on this new album. I love composing new music and it is something that I do all the time, it's like a process that never stops, I just take some small breaks in between to gather new inspiration.Our last 5 albums were produced by me.
The record has eleven tracks with one bonus, did you have any tracks that didn't make it on to this one but might used for future records?
Yes, I always have a lot of left over stuff when an album is finished. Most of the material is very cool, but it remains to see if it will ever be used, because I am constantly writing more material.
You've obviously got tour dates to plan in support of your new record, but what does the rest of the year have in store for Sirenia?
I think the rest of the year will mainly consist of promoting our new album, playing shows and working on new material. I always come up with new ideas and it is important to put them down, my memory is no longer as good as it once was. (Laughs)
Besides music, are there any other hobbies you're particularly fond of?
I like brewing beer, making wine, collecting cognac, playing chess and fishing. Whenever it is possible I like to spend time with friends over a glass or ten.