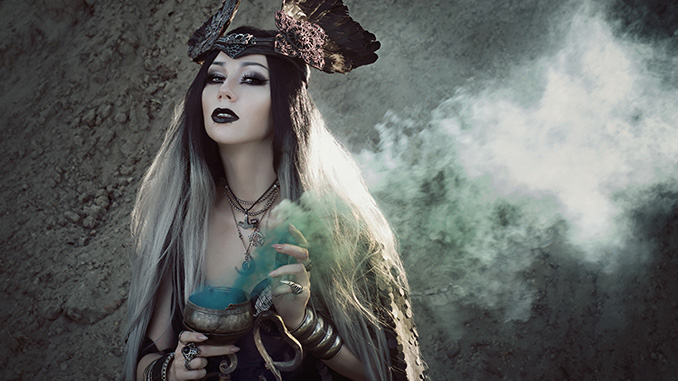 The fairytale beauty on the cover of Issue 49 is Katrin Lanfire, a versatile gothic model from the Ukraine. Lena Berkas is the lady in charge of the shot, who handily loves dark fairytales and working with creative people. Lena talks muses and making beautiful images, Katrin celebrates freedom of expression. Together they created our captivating cover image.
Katrin you seem to favor a fantasy gothic style, who or what are your inspirations?
Nowadays we live in an amazing world with lot of visual information – from paintings by old masters to the latest movies and video games. I love fairy tales from my childhood, I love beautiful fantasy movies and from time to time I see amazing creative people. Inspiration is in the air, I just have to catch it in order to get and realize my ideas.
Lena what inspires you outside of photography?
Movies, classical paintings, books, weather sometimes, also my friends and acquaintances who make lovely things. Katrin creates fabulous headgear, Alisa Perova (Alice Corsets) sews amazing costumes, and many others. It feels like breathing creativity when I talk to them.
What is your favorite personal style Katrin?
Oh, I can`t answer this question! It is too difficult! For daily life I prefer nu-goth style, because you can look elegant and at the same time pretty unusual, as you want. Also it`s absolutely comfortable, just perfect! For parties it depends on topic of the event – could be historical, fantasy, dark romantic, fetish… Could be more easy to say, which styles I don`t like – it`s cyber, rockabilly and Gothic Lolita.  First one because it isn`t my kind of music and their clothes look very similar, second and third – because I'm not the right type for these styles with my appearance.
You also like historical fashion. What is your favorite era for clothes?
It`s a paradox – I really love High Gothic and Renaissance times, and someday I'll be sure to have such outfits, but for events and shootings I always prefer Rococo and Victorian dresses with corsets, fluffy skirts and  complicated hairstyles. They are so beautiful and impressive! I can`t resist their charm!
Do you use a stylist or do you come up with the looks yourself? How did you start?
I`ve never used a stylists, perhaps it would be interesting, because it would be a new experience for me! To be honest, I don`t remember when and how exactly I started. During my whole life I liked unusual images, wonderful dresses, a "dark" kind of beauty. At first I tried to make clothes for myself, tried different styles, hair colors, make up…sometimes these experiments were like walking blindly, and I could see my stylistic fails only on photos from events. Of course, with time I realized, which kinds of images I should use, but even now I will gladly try something new.
Lena you shoot a variety of styles, what draws you to the gothic style?
Since my childhood I loved fairy tales especially grim ones. I always wanted to make one myself but I am no writer, so instead of writing I shoot grim tales.
All of your photos seem to be shot on location. Why do you prefer to shoot outside rather than studio?
I really love to make photos on location, because natural light is unique and I prefer to use natural scenery. But sometimes the weather is not fine and I have to look for an unordinary photo studio. I like to embed the model into environment in such a way that they become a whole, a finished creation where every detail completes each other, and there's nothing to add or remove.
How long does it take to finish a photo once you've taken the shot? 
Sometimes it takes an hour, sometimes a month or even a year. It largely depends on verve and mood. Except of course commercial jobs.
If you had unlimited resources, who or what would you shoot?
Oh, I would travel a lot! I have a whole list of places where I would like to shoot. Of course, with models in fabulous costumes. Mostly with Katrin, she is my lovely muse! Also I would like to shoot a photo story with a few characters.
What was your best shoot to date? What has been the worst and why?
It hard to tell the best shoot. I love them all and I try to make every new one to be better than previous. But my worst one I remember well. It still unpleasant to look at those photos. It was all about the model. It was a TFP (Time For Print) shooting we had organized with my sister. She is a makeup artist and an assistant (yes, I'm lucky with my sister). And the model was capricious and criticized all around entire session from the first minute.
Katrin you also make jewelry and accessories, where do you find inspiration?
It`s definitely nature and high fashion! Sometimes I think a long time, then make a sketch of my accessories and then look for materials for them; sometimes I just can see some materials, which could fit perfectly with each other and it inspires me to create new items. Of course at first I started with making accessories for my images, over time with the growth of skills and experience, I decided to open a MyWitchery shop on Etsy.
A photo of you recently appeared in a Russian Extremism magazine, how did that happen? 
I really can`t explain how it happened! My friends found this magazine online, with a picture of a shoot from 2013. My version is – now in Russia odd sentiments prevail, especially in small towns, where people are poor, pissed and aggressive. They don`t like something unusual for them. This time someone decided to make a magazine, where all subcultures, from hippie to goth, punks and bikers were called "dangerous extremists". The journalist picked some random pictures from the internet and labelled people on these photos, how his imagination suggested to him. Me and a friend of mine turned out to be 'Satanists' in his article. Now we can do nothing – just laugh!
Do you find it difficult being yourself in the Ukraine? Is it hard to be a goth where you are?
To be honest, it isn`t very difficult for me. I have perfect friends and colleagues, who like my style or share this style for themselves as well. Everyday I drive by car instead of using public transports and take a taxi for going to parties. I don`t get in contact with strangers too much. Also I can add, recently you can see enough cool-looking people on our streets, they aren`t goths, just guys with piercings, tattoos and creative hairstyles, but I find it`s a very nice development. People who feel free obviously will give freedom of expression to others.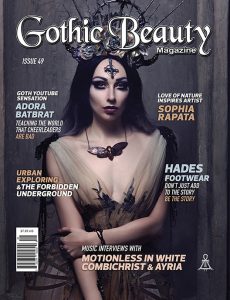 The cover image for Gothic Beauty is like a dark fairytale! Was there a particular inspiration for the cover image?
 Lena – This photo was shot in "Stagestudio" in Kiev. They leased this location back then. When Katrin showed me her beautiful character I already knew where and how I want it to shoot. We've agreed about place and time but the day before the shooting I managed to catch a cold. It was too late for canceling so I took a couple of pills and went to shoot. As a result I received a ton of positive emotions and got well over a day.
Katrin – It was my image for a ball, organized by Viona Lelegems in Gent during March 2016. She proposed the topic "Time of Redemption", which meant medieval, religious and fabulous images like, for example, Madonna, knights in search of the Holy Grail or even priests and nuns. My image was a mix of Morgan le Fay and Madonna in a dress of spiky roses.