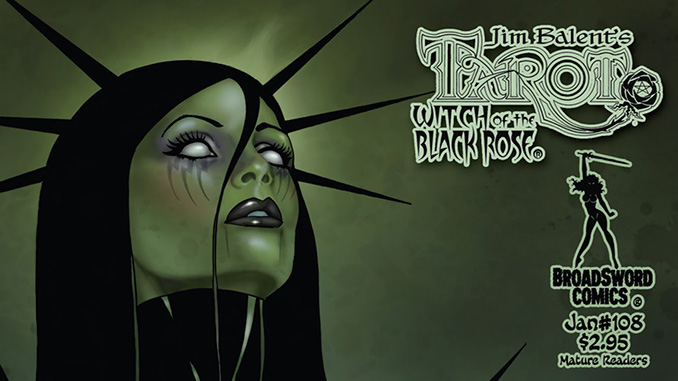 It is always great to find that one story that doesn't stop surprising you, that always meets your high expectations, something as good as Tarot: Witch of the Black Rose. In the newest chapter, Issue #108, creator, artist and writer Jim Balent presents a mix of elements he hasn't used for a while.
The red-headed witch and her squad were bewitched by the very Spirit of Halloween a few months ago in the previous Halloween issue, turned into green-skinned witches and even a living skeleton after the spirit classified their "costumes" as unfitting for the occasion. They have been searching for answers and a way to return to their common traits, but also trying not to stop doing what they're best at: fighting for justice. Tarot keeps the balance between the human world and the magical creatures, Jon protects the dead and their last wishes, and Raven seeks her revenge over those who harmed her in the past.
The Swordmaiden of the Goddess, Tarot, and her husband, Jon Webb, go on a mission that ends with the witch being seriously injured, leaving her on a thin line between life and death.  Jon runs a race against time to save her and makes a decision that could affect his marriage. On the other hand, Tarot's sister, Raven Hex, is assaulted by old enemies, a vengeful acolyte and dark elves, who want to bring back their old masters after Raven and her family either killed them or trapped them in a book she should have never stolen from a magic library. Although the dark witch faces them, they put more than her life at risk if she doesn't accept their terms and does what she is told.
The author knows how to immerse the reader in the story, making his characters' feelings palpable and part of the setting as we go page by page, trying to guess what will happen in the next panel. Balent honors the comic book tradition of using seemingly simple plots to create a whole new perspective of what his fans and followers may expect.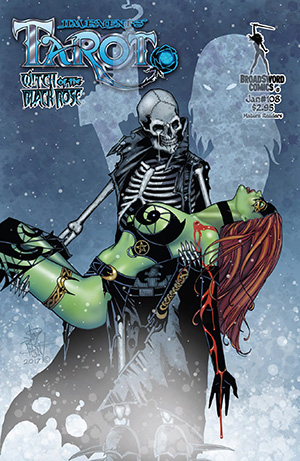 Although I'm not sure it was on purpose, I felt a deeper and more complete development on Raven's side of the story, with three major plot elements of her previous storylines finally taking shape as a disastrous consequence. It proves that the author really knows how to work with long lengths of time to develop his ideas. I don't recall other comics that made me feel anxious and nervous about what will happen next, not realizing I've been holding my breath until I reached the last page, but several other issues of Tarot: Witch for the Black Rose certainly have done that so far, this issue included.
As for the art, there's hardly anything new I can say. It never disappoints, bores me or makes think I've had enough of it already. Colorist and letterer Holly Golightly is always showing the best of her abilities to bring this series to life. I cannot imagine someone else could do a better job than her with this series. Golightly truly gave a new face to the horror elements alongside her brilliant husband (the author), adding her own special, professional touch as always – one that makes Tarot so special. She freely lets her hands work their magic as they flirt between the fantasy and the gothic enchantment that make this a unique comic. As brilliant as always, Miss Golightly!
I can hardly wait for the next chapter in this addictive adventure to see how everything evolves and what will become of the characters. Although I know they all remain alive, at least for now, I'm eager to see which new ideas and twists this duo has in the future.
Visit Jim Balent's site on the web.