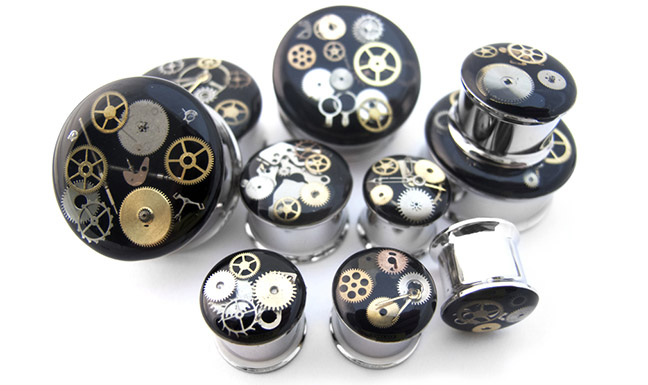 Body jewelry has come a long way since the humble nose ring and ear cuff. Scaffolding, dermal anchors and implants are just some of the more intricate (and painful) piercings available in recent years, and stretched piercings are also becoming more mainstream. Tunnels, plugs and spirals are available in various materials and styles, but how do you know what's best? Or that the jewelry you buy won't turn your ear green?! You go to a store that has a passion for piercings, that's how, where there's not only a huge variety of accessories but aftercare advice too, and where the owners have more than a few piercings themselves!
Erica from Urban Body Jewelry has stretched ears, as well as multiple ear piercings, nose and belly piercings, so is more than qualified to advise on body jewelry. Her company is based in California and have been doing their thing since 2010. Since that time they've built a range of jewelry that numbers almost 1,000 different styles. Erica says it was the lack of choice and quality that led to them starting the enterprise. "If you were to purchase plugs, you had to do it at a tattoo shop, and they were always $50+. So, an idea was born and I never looked back!" While classic styles remain consistently popular, the release of new products regularly means their 'top ten' change frequently. "Our most popular plugs right now include Wood with Turquoise Inlay, Mint Rosebud Acrylic Plugs and Rainbow Fluorite Stone plugs. Turquoise is always in and especially when combined with the Sono Wood they just can't be beaten for an everyday style." While those unaccustomed to piercings might think of them as aggressive or industrial in style, Urban Body Jewelry also have a large range of distinctly delicate designs. "Our acrylic rosebud plugs are very feminine and pretty, and mint is REALLY in right now. The Rainbow Fluorite plugs are really special, with every pair being unique and magical! We are working on some really new, never-seen-before items, like Tourmalated Quartz too."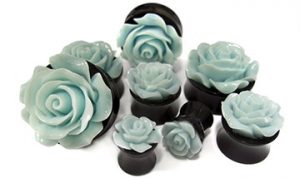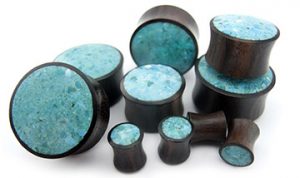 "We are living in a generation where all types of jewelry is available. We can make almost anything now! When I first started stretching my ears, there was really nothing very "girly" around. It was all nautical stars, solid wood, and stainless steel tunnels. Now, we have expanded hangers (our Aqua Squid Glass hangers are sooo cool!), teardrop shapes, and all different types of Cubic Zirconia bling plugs. We just received a new shipment of Wood plugs with Cubic Zirconia inlayed inside. I have ALWAYS wanted something like this, and never been able to find it. I am also crazy in love with Rose Gold right now too, which is becoming more and more popular. Body jewelry has really come a long way!"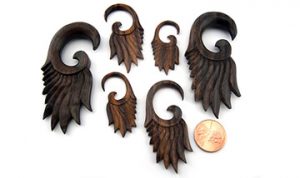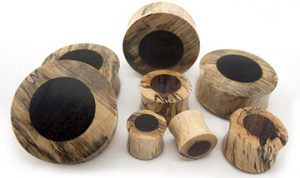 What does she think of trends in body piercings, like the current trend for septum (the center of the nose) piercings? Is it annoying seeing fads come and go or is it beneficial to the modified scene? "I love seeing septum piercings becoming fashionable – or any piercing for that matter. I feel like every year piercings are becoming more acceptable in the mainstream, and if pierced septums becoming "fashionable" helps that, then great! I think right now the "ear party" is still quite happening (having multiple piercings all up the ear- inner & outer). Also, the medusa (the center of the top lip) is becoming mainstream, especially paired with a septum."
With over 900 jewelry choices for stretched ears on their website, the choice is almost overwhelming! What's the best option to go for? "In my opinion, wood is the best type of plug you can wear. While I love trying new styles, I always come back to my wood plugs. I am currently wearing the Tamarind Wood plugs with Sono inlay. Nothing extravagant about them, but they are clean, go great with all types of looks, make your ears very happy and are only $13.99!" As well as the obvious range of jewelry, Urban Body Jewelry also stock aftercare products as well as stretching kits to make stretching your piercings at home as safe and easy as possible, 'safe' being the key word. "I love that saying, "Your body is a temple, why not decorate it?" So decorate your body whichever way you choose, whether it is tattoos or piercings, however, DO IT SAFELY! You only have one body, don't wreck it by trying to stretch too fast or not taking care of your piercing."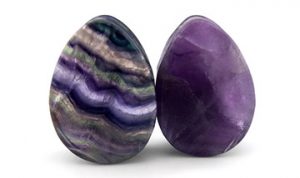 If safety is the key word, then 'patience' would be a close second. "Stretching your ears is not a sprint, but a long, methodical process. Stretching too fast can cause damage, which, if ever healed, makes stretching even harder." For that reason Erica is not a fan of dermal punches (where the skin is cut out of the earlobe to make an instant stretch piercing). "It removes healthy tissue that is necessary for healthy, stretched lobes."
Erica's tips for a successful and healthy stretching include
• Stretch one size at a time and take your time between stretches – treat every stretch like a brand new piercing.
• Take advantage of all of our "in between sizes" like 1g, 13mm, 15mm, kits that will make stretching just that much easier!
• For your first piercing ALWAYS make sure you go to a trusted professional and take some time to research the place and the piercer.
• When in the piercing studio, make sure you see clean, sanitized instruments and ask as many questions as you need. Don't be shy – you are paying them!
• Always do sea salt soaks for whatever piercing it might be. It is the easiest, most safe way to heal your piercing and does the trick, every, single time.
• And finally – If you're in a rush, then you shouldn't be stretching to begin with!
As for Erica's own piercings, if money and materials were no option, she would design some plugs that were out of this world, literally! "I would make a pair of hardwood plugs with a crazy meteorite inlayed inside! As for piercings, I would have dermal anchors, one on my neck and two on my belly for a straight center. I would also put real diamonds in all of my piercings! Bling Bling! Dermals are so hard to take care of though and you are forever worried someone will accidentally touch them, so they can be a pain!" Her favorite modified celebrity? "Definitely Skrillex!!"
Urban Body Jewelry are offering all Gothic Beauty readers a 15% discount code as well as their usual free shipping on orders over $20. Bargain! Use GB15 at the checkout to get your discount. urbanbodyjewelry.com