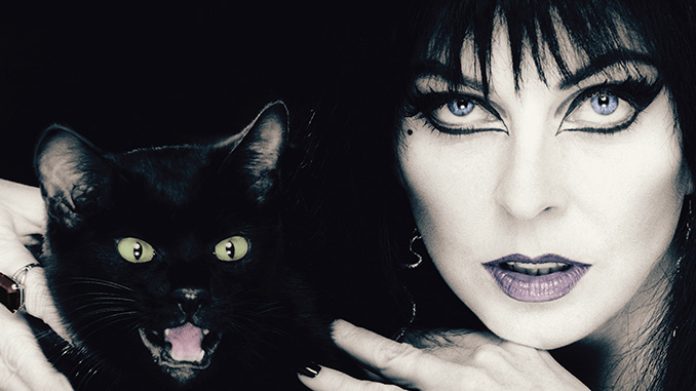 Actress Cassandra Peterson has brought a new treat to the table this October with the recent release of a book that serves as a pictorial collection of the iconic horror hostess following 35 years. Elvira, Mistress of the Dark – A 35th Anniversary Photographic Retrospective spans 240 pages and contains over 300 images of the character, including previously unpublished images such as the very first childhood photo of Cassandra dressed up as a "Queen of Halloween."
In a phone interview during this busy time of performances and appearances, Cassandra shared some insight into the book as well as her look back on her long career. With such a history as Elvira, Cassandra felt the time was nigh for the book's release.
"I had always wanted to put one together for a long time," Cassandra said. "I finally found someone, Chad Colebank at Tweeterhead (Publishing), who was willing to do all the legwork that I didn't have time to do and that was literally searching though boxes and boxes of photos I've had stored away in a storage unit for years. That was a really daunting task let me tell you, to go through these photos looking at each one and getting them printed out and scanned."
Cassandra said that Chad Colebank worked hand-in-hand with her assistant Christian Greenia to get "all those old pictures out" and put them all together for the book after Cassandra picked what she felt were the best photos.  As Cassandra first took on the role as Elvira back in 1981, the actress cites the lack of the existence of Photoshop as one of the biggest challenges when selecting the oldest photos for the book.
"When I did a photo session we really didn't have the money to take pictures that were less than perfect and have them hand-retouched," Cassandra recalled. "We would shoot hundreds of photos and then have to pick the perfect one where not a hair was out of place or a shadow was across your face and the dress was just right. I felt it was important to keep those the way they were, even though the old pictures there look a little bit cheesy. A lot of them do, I kind of look at them and cringe but I think it was important to keep them the way they actually look."
Being alongside the horror genre for so long, Cassandra has had the same persona as Elvira for every Halloween and she often performs at Knott's Scary Farm in California. Throughout the years, Peterson says that she always enjoys her fan base.
"I like that they keep coming back and that they are so enthusiastic still," Cassandra noted. "I guess I sort of expected that to kind of fade away and it doesn't, it seems it keeps growing. I don't get that much adulation at home let me tell you. To be out performing as Elvira and all of a sudden having all these people really loving me is a super good boost to my ego. It feels really great."
According to Cassandra, old and new fans alike will all get a glimpse of some cherished, photo-session memories within the book.
"I like seeing a lot of the Polaroids," Cassandra said. "I think those were my favorite part of the book really. A lot of the Polaroids that we took when we were doing photos sessions would be taken before, after and during the sessions. A lot of those are a little more candid and interesting I think because they weren't really planned so much. I love that."
"In particular, I think I love the picture where I am seven months pregnant with my daughter (Sadie Pierson)," Cassandra added.  "I am just wearing my underwear there so I had to think about whether I should put that in the book or not. But, I think it's really a sweet picture the way it came out finally and that fans will like seeing the reality that I am shot from the chest up and that below I am actually pregnant."
Cassandra has also posed as Elvira with various animals for photos, from a cat to a snake given to her by a fan.
"I do get fabulous things from fans that are really interesting and usually something they have created which is what I like best, something they made that is a little homage to Elvira," Cassandra said. "Another fan did give me my first Rottweiler puppy. After that dog, his name was Vlad the Impaler, I began rescuing Rottweilers from then on and so forth. For 25 years I've rescued Rottweilers and had them as my dogs.  It was really great and that started that whole kind of quest in my life."
Before the growth of the internet, Cassandra says most people did not recognize her as the Mistress of the Dark sans her tight black dress and black hair. As more pictures of Cassandra have emerged online, the relationship with her fans has evolved.
"The internet has blown my cover, that's for sure!" Cassandra chuckled. "I enjoyed at least 25 years of not being recognized anywhere. I could really lead a completely normal life which may not sound like fun but knowing other celebrities like I do it's such an amazing luxury to not be recognized by people all the time. It's good to be recognized when you want to be recognized but not so much when you are just walking down the street with no makeup and trying to shop or you are with your child."
Despite losing her anonymity, Cassandra says there are pleasant aspects of being recognized by her fans.
"My fans are always kind and respectful to me," Cassandra explained. "I was sitting just two days ago at a restaurant outside on the street and this adorable girl, she looked so cool and Goth, she just passed by and goes 'I love you so much you have no idea' and just kept going. I was like wow that was so sweet and awesome. It was really funny, all the other diners around me were kind of like 'Wow what's going on?' because they didn't know who I was."
Though Cassandra has just released a photobook with commentary, she has future plans for an autobiography to give a more in-depth look at her eventful life.
"I think there is a lot of my life before Elvira that a lot of people don't know about," Cassandra said. "They've heard about some of the things like I went on a date with Elvis and I was a show girl in Las Vegas, the youngest show girl in Las Vegas history,  but they don't know all the details behind it such as how I got there and why I got there. I would really like to put that out there in a book and hopefully connect with people more that way."
Cassandra remarked that she plans to detail more of what occurred before her life as Elvira as well as her succession into the character in the autobiography.
"My fans already have a very nice connection with me and I think that knowing more about my background and how I evolved into becoming Elvira would really resonate with a lot of people," Cassandra said. "I am looking forward to getting that story out there. I've been told through so many years by so many people 'Oh my God, you've got to write an autobiography' because my life has been so strange. It's funny, when I became Elvira my life actually calmed down. People have a hard time believing that but it's true."
With her busy schedule, Cassandra says she will need to set aside some time for an autobiography, but for now fans seem to be placated with her new photobook.
"It's been s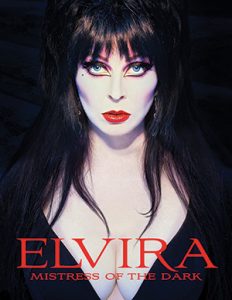 elling like hot cakes," Cassandra said. "I am not kidding; they've been flying out the door. People have been sending me comments through social media about really loving it both for the photos and just for the look of it because it's a home décor item. If you are into Goth it's a great thing to set around on your coffee table."
Aside from her coffee or "coffin-table" book as it is denoted on the Elvira website, Cassandra notes that she also collaborated with LunatiCK Cosmetic Labs for a 35th Anniversary, limited edition coffin-shaped makeup palette.
After reaching this milestone, Cassandra expressed gratitude to supporters: "Basically, I just want to thank all the great Goth girls out there and hope that I have been a good influence on them and tell them Happy Halloween!"
Cassandra's book is available at Tweeterhead Publishing.
A schedule of Cassandra's upcoming appearances is on her website.