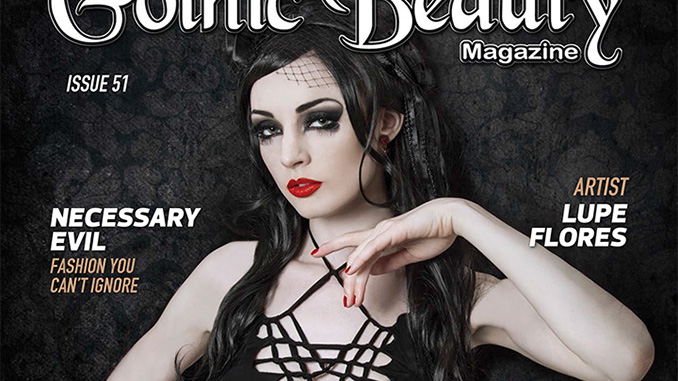 We're excited to announce the release of Issue 51!  Here are a few features in this issue you won't want to miss…
Necessary Evil
The only colourful thing about UK designer Kate is her hair, which is usually a signature bright red. Her label, Necessary Evil, is predominantly all black too and specialises in accessible and affordable gothic staples for both men and women. Her latest collection however, is more bold, with sheer skirts, batwing capes and THAT daring mesh dress with only a velvet cross to hide one's modesty.
Lupe Flores
Lupes Flores creates the kind of images that stay with you. While dark and melancholy, there is an absolute fierceness to her work. The figures she depicts either stare at you with wide, knowing eyes, or they hypnotize you with sinister hollowed sockets where eyes once were. While her artistic style features simple clean lines, the ideas they convey are layered and complex.
Sophie Lancaster
Ten years ago a young woman and her boyfriend were walking home after spending the evening at a friend's house. They stopped in a local park to talk to some people they met. They were accosted by five local teenagers who kicked and punched them. They were so badly beaten that, when it came, the ambulance staff couldn't tell if they were male or female. After being taken to hospital in a coma, the young woman died less than two weeks later. Her boyfriend survived, although he never fully recovered. What instigated the horrific assault? Dreadlocks, dyed black hair and eyeliner. The young woman, Sophie, and her partner Rob, were goths.
Goths Around the World Middle East
At first glance, you would think A and Quasar were just your average goth couple. As we talked on Skype, the two were clad in black—A wore a band tee and a spiked leather bracelet while Quasar sported dark makeup that complemented her jet-black hair. During our conversation, the two spoke about their love of metal music and their appreciation for gothic art and architecture. While they have interests and attire similar to that of any US goth, the lengths they must go to in order to pursue these interests is something few of us can relate to. To say they both put their lives on the line to live a goth lifestyle is in no way an overstatement.
The Birthday Massacre
There are few bands in the alternative scene that have become as emblematic as The Birthday Massacre, the Canadian darkwave band responsible for acclaimed albums such as Walking with Strangers, Hide and Seek and Pins and Needles. After a full year working on it, their seventh album, Under Your Spell, was released. We had the chance to interview guitarist Michael Falcore and discover some of his thoughts about this record.